Yahoo acquired web analytics company IndexTools April this year and now has re-branded the service as Yahoo! Web Analytics expanding it out to more new users, The powerful enterprise site analytics service is already available to advertisers working with Yahoo enabling them to visualize key performance indicators in an easy to use fashion.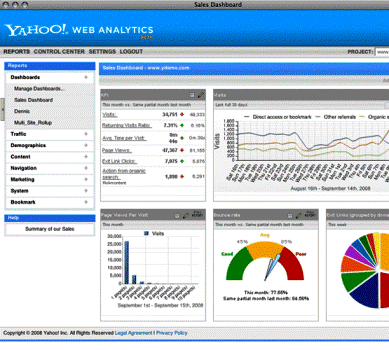 Unlike many other similar web-analytics services which take 24-48 hours to process data and present reports after data-collection (read Google Urchin), Yahoo Web Analytic provides near real-time data-analysis of visitors experience on your website, allowing you to watch new ad-campaign performance and make quick changes to optimize your budget.
According to Yahoo:
With Yahoo! Web Analytics you can understand how visitors come to your site, what they do while there, how many convert from visitors to customers, and why some of them don't.

Yahoo! Web Analytics helps you identify the ads, campaigns, keywords and referrals that contribute the most to your bottom line. It helps you understand what pages, content and products perform better than others, thereby helping you better design your site. And by providing extremely valuable insights into how your visitors and customers experience your website, Yahoo! Web Analytics can help you to market your site better, increase visitor engagement, convert more visitors into customers, and transform existing customers into die-hard fans.
Yahoo! Web Analytic Features:
Real-time Data analysis and reporting.
Yahoo! Web Analytics stores data in non-aggregated raw form allowing users to ask a variety of new questions and create new kinds of reports to answer questions using both current and historical data.
Yahoo! Web Analytics enables easier analysis of website data by allowing you to filter and segment data using intuitive drag-and-drop features, to quickly build reports with simple custom report wizards, and to create ad hoc scenarios to answer your specific business questions as they arise.
Flexible data-analysis features like drag & drop data filters, custom report wizards, and segmentation selector, allows users to easily apply or remove filters to view the performance or characteristics of specific types of products, visitors and web pages.
Here is an OLD video discussing IndexTools features: