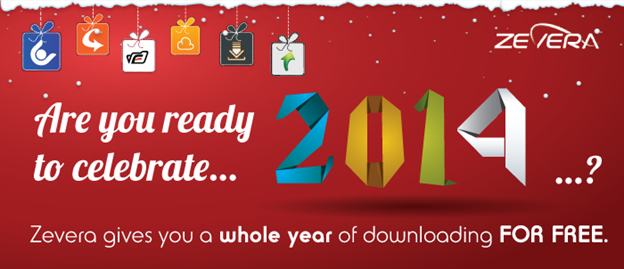 So, are you ready to celebrate… 2014? You sure think: is this a joke? Well… not at all! Because Zevera's new Offer gives you a whole year's downloading FOR FREE so you will be downloading straight through 2013 AND 2014!!
If you love downloading files with Zevera.com, the revolutionary multi-hoster, you absolutely cannot miss this offer!
When everybody will be celebrating 2013 you will celebrate 2014 as well, because with each one year premium Account you buy, Zevera gives you one more for FREE!
How: Just register at Zevera.com, the revolutionary multihoster, and get yourself a year Premium Account. Automatically you will get one more year for free- no Offer Code, whatsoever, needed!
When: The transaction must take place between the 15thof December, 2012 to 2nd of January, 2013. So, don't waste any more time!
Who: This offer is addressed to everybody: new users and existing users, just as long they purchase their year account during this specific period.