With the internet becoming so important to everyday life these days, protecting your online presence is a vital step in smart web use. Leaving yourself vulnerable to identity thieves, hackers, and viruses is a sure way of giving yourself headaches in the future. Fortunately, Kepard offers an excellent option for securing your web connection with the added bonus of web-censorship and geo-restriction bypass through its VPN service, and with its new giveaway, Kepard is giving you a chance to access the security and benefits of a premium VPN account for free.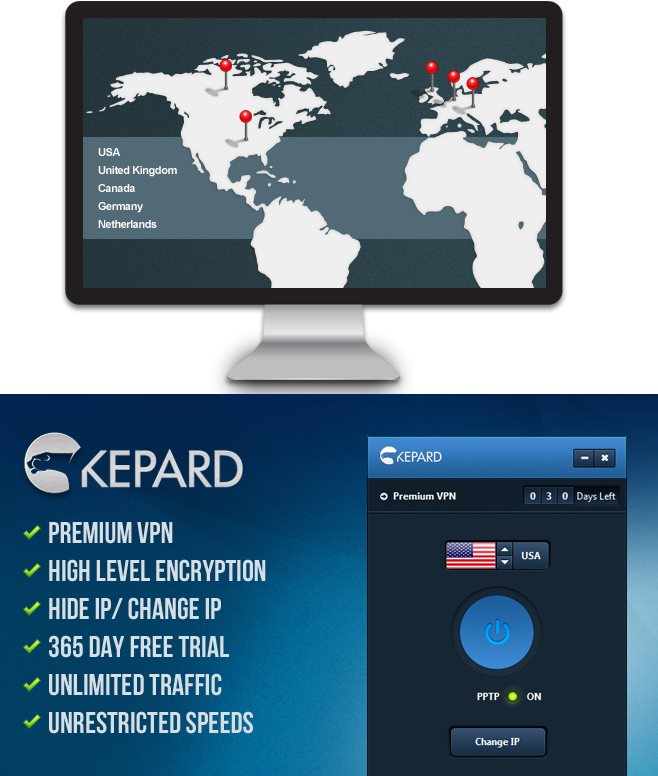 Having a premium VPN account with Kepard gives you access to a range of benefits for your online experience, and you now have the opportunity to join up with Kepard free of charge. Ten accounts are up for grabs, and the giveaway allows winners to take advantage of all of the benefits of a VPN account for three months. Internet security is a necessary step, and you now you can try out the best of the best for free.
VPN services can be a smart idea for all web users, whether they are using it for business or pleasure. With identity theft on the rise, it's important for everyone to consider their online security, and Kepard's VPN services are the most flexible, strongest protection services around. With easy, fast connections and unmatched online freedom, Kepard's services can satisfy any web user's needs.
With a premium VPN account, you'll have access to Kepard's five servers around the world, with no limits on data usage and the highest connection speeds. You'll also be able to get around the restrictions of your normal servers, as Kepard allows you to access sites that would otherwise be blocked at school or work. This all comes in addition to the advanced encryption techniques that Kepard's services utilize to guarantee the safety of you information.
If you want to put your name in for the giveaway, follow the steps below:
1. Head to the comments section on this page and drop us a line. Why should you be one of the winners? Let us know!
2. Get the word out on Twitter! Send Kepard's message out to your followers: You can win 1 of 10 free VPN accounts from @kepard (RT to enter)
3. Go over to Facebook and head to the Kepard Facebook page/a>. Hit the "Like" button, and then watch there for an announcement of the winners.
If you have not received your accounts, comment below.