With nearly 5 million WiFi hotspots available worldwide, it's easy to chat, shop online, pay for the services and work no matter where you are. Airports, hotels, coffee shops, malls, and parks have public WiFi hotspots. But except for travelers and freelancers, these places attract hackers and identity thieves.
Even inexperienced cyber criminals can set up a rogue access point, so-called evil twin, perform a 'man in the middle' attack, and begin eavesdropping on / 'sniffing' your traffic. You might think you are talking to your friend and sent your password to a man-in-the-middle. You may think you are connecting to the Starbucks WiFi hotspot when actually connecting to an evil twin and letting someone install malware on your device or clone your identity.
That is when WiFi Hotspot Protector comes in handy. This new security app is always on guard for the safety of your sensitive emails, credit card information, photos and passwords from your accounts. No need to stop using the speedy internet in WiFi hotspots. Each time you are using public hotspots with WiFi Hotspot Protector, you are safe.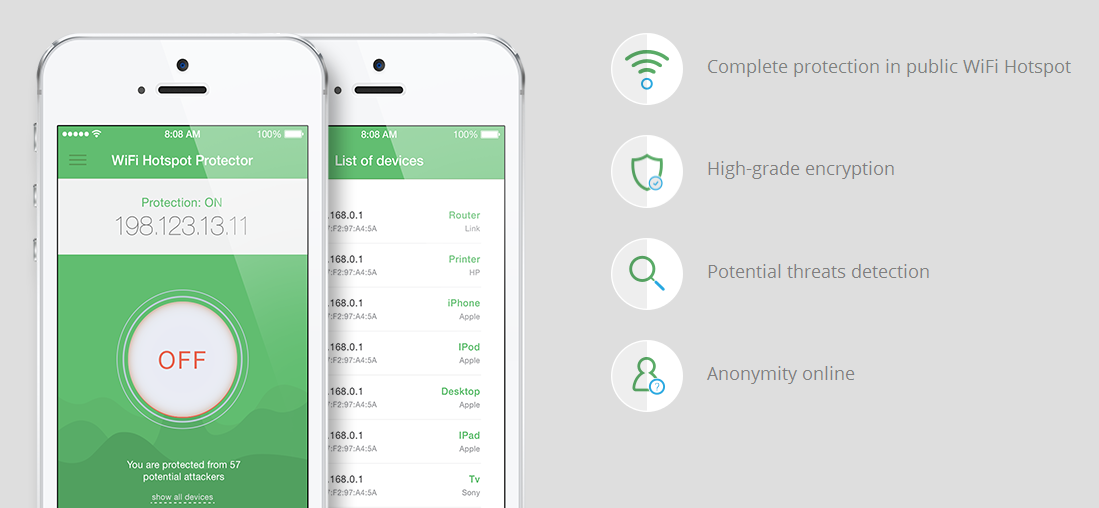 It's really as easy as a finger tap. Ok, three finger taps. You need to install the app, launch it, and set up a KeepSolid ID (https://my.keepsolid.com/). If you follow these easy steps today, you'll get 30 days of the service FREE. Please note, that only users with new ID's can take advantage of this deal.
After logging in, proceed to the app itself, tap ON to enable the protection … and forget about online security threats forever. Whenever you are near a public Wi-Fi hotspot, the app is ready to protect your activity. Automatically. It scans public Wi-Fi hotspots when you connect to them, notifies you about possible security problems and guards your activity and online communication.
With the most recent and advanced encryption methods, WiFi Hotspot Protector ensures the maximum level of safety and security of your traffic. All the data sent from and received on your device will be encrypted, which means no one can make use of it.
Moreover, it automatically selects the nearest and the fastest VPN server for you to connect to. So you can access your favorite web sources without any lags or delays.
It's for travelers, connecting all the time to Wi-Fi networks in airports, hotels and bars. It's for freelancers, using public hotspots in parks, co-working spaces and coffee shops. It's great for remote workers, students and just anyone, who likes to chat, post selfies and answer emails when hanging out in public places with Wi-Fi access.
You can download WiFi Hotspot Protector on the App Store: https://itunes.apple.com/app/wifi-hotspot-protector/id985556483?ls=1&mt=8. Hurry! Through June 18, 2015 only, download the app and use it at absolutely no cost to you for the whole month instead of 10 days!
More information about the app is available on the site: https://wifihotspotprotector.keepsolid.com.