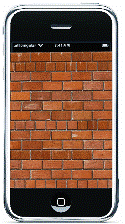 If you upgraded to the latest iPhone firmware version 2.0 by mistake and bricked your iPhone or don't like the new upgrade here are simple to follow step by step instructions to restore iPhone or iPod Touch to an earlier firmware of your choice.
Uninstall iTunes 7.7 and Install iTunes 7.5.
Connect your phone to computer via USB.
Turn off the phone.
Place your phone in DFU mode (Device Firmware Upgrade) as described below:
Push and hold Home and Power buttons on your phone simultaneously for 10 seconds.
Release the Power button but keep holding Home until the computers beeps recognizing the USB device.
You should be in DFU mode now.
Download and save your desired iPhone and iPod Firmware Version Files.
Now go ahead with the restore to your desired iPhone firmware using iTunes 7.5, to do so simply Hold down Shift key and press the Restore button in iTunes.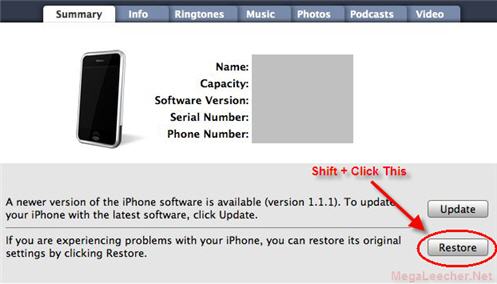 Select your iPhone restore file to continue.
Once restored you can Jailbreak and Unlock your iPhone using various other methods.
Here are the video instructions for the steps above.
Video Instructions:


To follow the method described in the video above you will need to download files below:
Note: The above procedure is meant for advanced users only and might render your hardware useless if done incorrectly, Please follow the above advice at your own risk.