Have you heard about the free partition magic that has been making waves in the software industry lately? If you have not, then you better check out what EaseUS Partition Master Free 10.8 can offer. It is a comprehensive solution that can resize partition among other things.
With more than 30 million users who can testify highly about this free partition magic, it makes your life easier to fully utilize this application with its user-friendly interface and step-by-step wizard. So much so that it has also been awarded Five Stars by the Editors at CNET, the software experts.
EaseUS Partition Master Free 10.8 provides an all-in-one scalable solution for disk management, partition recovery and cloning needs. In addition, it can migrate OS to HDD/SSD.
Now in the latest version 10.5, this free partition magic allows you to convert MBR disk to GPT disk and vice versa without having to deal with any data loss. This ensures you maximize your hard disk space to the fullest. Talking about hard disk, the latest version also supports up to 8 Terabyte of hard disk to meet the growing demands of high-capacity users.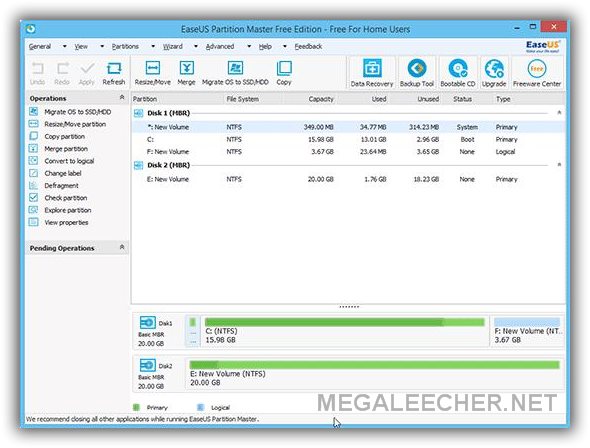 There's also a brand new User Interface which further improves and simplifies a lot of things. You can easily perform tasks such as to resize partition in just a few simple clicks.
And if you are among the crowd who had just updated to the latest Windows 10, then this free partition magic is compatible with this latest offering by Microsoft. It has been proven to solve the low disk space problem in Windows 10, especially if you had just finished upgrading.
Some other notable features is that it can help you to extend NTFS system partition without rebooting your PC and causing unnecessary downtime. You can also now safely merge two adjacent partitions into a bigger one without data loss and with ease. Other than that, you can also use it to convert from the older FAT file system to the newer NTFS file system in order for you to get better performance and results.
If you are having trouble booting up your PC, you can also use this free partition magic to create a WinPE rescue disk. This may come as a surprise, because you would expect it to resize partition well; but there's also a disk defragmenter which can speed up your computer.
In terms of support, all kinds of hardware RAID, removable storage devices, hard disks, GPT disks, solid state disks and FAT/NTFS/EXT2/EXT3 file system are well supported. Plus it also works on both BIOS-based and UEFI-based motherboards.
So if you are looking desperately for a free partition magic, then look no further than EaseUS Partition Master Free 10.8. It has everything you need and more and it makes tasks such as to resize partition a breeze. You don't have to be a computer expert to be able to use it.