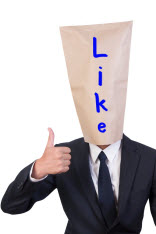 "When a Facebook User Likes a Page on Facebook, she engages in speech protected by the First Amendment."1 That's what Facebook has to say about the "like" option which is the only source of expressing your agreement with the comment, photo or a link posted, other than commenting separately altogether. Whether it's 'communicative imagery' or 'core speech' or both? Can clicking 'like' result in losing your job? Well, that's what makes things interesting.
In this case2, Plaintiff Daniel Ray Carter, Jr. alleges that Defendant B.J. Roberts, the elected Sheriff of Hampton, Virginia, fired him from his position as deputy sheriff because he Liked the Facebook campaign Page of Roberts's challenger, Mr. Jim Adams, in the 2009 election, and that his firing violated his rights under the First Amendment. So, does clicking 'like' actually amount to saying something in affirmative as amount to speech under the constitutional protection?

On August 6, 2012, the US District Court of the Eastern District of Virginia held that "merely liking a Facebook page is insufficient speech to merit constitutional protection". The court further re-affirmed that "in cases where courts have found that constitutional speech protections extended to Facebook posts, actual statements existed within the record."3 Thus, writing something on the 'wall' or posting 'comments' were speech within the meaning of the First Amendment. In words of District Judge Jackson,
"No such statements exist in this case. Simply liking a Facebook page is insufficient. It is not the kind of substantive statement that has previously warranted constitutional protection. The Court will not attempt to infer the actual content of Carter's posts from one click of a button on Adams' Facebook page. For the Court to assume that the Plaintiffs made some specific statement without evidence of such statements is improper. Facebook posts can be considered matters of public concern; however, the Court does not believe Plaintiffs Carter and McCoy have alleged sufficient speech to garner First Amendment protection."4 (emphasis added)
The matter has rightly been appealed and is pending before the US Court of Appeals for the Fourth Circuit. Facebook, Inc. and the American Union for Civil Liberties (AUCL) have filed their briefs as amicus curiae. In their submission Facebook contends that "if Carter had stood on a street corner and announced, "I like Jim Adams for Hampton Sheriff," there would be no dispute that his statement was constitutionally protected speech. Carter made that very statement; the fact that he did it online, with a click of a computer's mouse, does not deprive Carter's speech of constitutional protection." 5
The fact that a social networking site is used by many to create profiles and fan pages to promote their ideas and to garner support for themselves at times, there is a lot of interaction amongst users which at times takes the form of 'like' button for simply agreeing or promoting an idea or a page. "The "Like"button on Facebook, represented by a thumbs-up icon, is away for Users to share information on Facebook. The Like button (like its pre-2010 precursor, the "Become a Fan" button) appears next to many different types of content on Facebook – including brands, politicians, religious organizations, charitable causes, and other entities that have established a presence on Facebook. Many other (that is, non-Facebook) websites have also incorporated Like buttons so that Facebook Users can Like news articles, videos, photos, or other content elsewhere on the Internet."6
It is a good argument given the fact that what happens after clicking 'like' clears a lot of cloud on this debate. "By clicking the Like button, a Facebook User generates an announcement known as a "Like story" that is posted to her Profile (now Timeline) page. For example, if Jane Smith Liked the UNICEF Facebook Page, the statement "Jane Smith likes UNICEF" would appear on her Profile page along with the title of the Page and an icon selected by the Page's administrator." 7
Facebook and other similar networking sites immensely help people to reach out and make their thoughts and ideas public, especially during a political campaign. We see many politicians creating their own Facebook pages and writing out stories and experiences along with pictures about their ongoing support garnering campaigns. And when a thought or an idea is communicated online then it is but obvious that a response or an agreement etc. would also be made online. "Carter's Liking of the Adams campaign's Facebook Page – and the statements that appeared on Carter's Profile, in the News Feeds of Carter's Friends, and on the campaign's Page – was no different from telling friends that he supported Adams, putting an Adams bumper sticker on his car, or planting an Adams campaign sign in his front yard." 8
As of now, we can only wait until a reasonable and realistic approach is adopted by the appellate court in this case. Till then we can carry on with "liking" as many comments or posts as we can without any fear of retaliatory "unlike".
- Thanks and credits to @Karn Jani for this guest post
----------------------------------------------------------------------------------------------
1 BRIEF OF FACEBOOK, INC. AS AMICUS CURIAE IN SUPPORT OF PLAINTIFF-APPELLANT DANIEL RAY CARTER, JR. AND IN SUPPORT OF VACATUR in Bland v. Roberts at pg. 8
2 Bland v. Roberts __ F. Supp. 2d. __, No. 4:11cv45 (E.D. Va. Apr. 24, 2012), 2012 U.S. Dist. LEXIS 57530, 2012 WL 1428198
3 Bland v. Roberts __ F. Supp. 2d. __, No. 4:11cv45 (E.D. Va. Apr. 24, 2012), 2012 U.S. Dist. LEXIS 57530, 2012 WL 1428198
4 Bland v. Roberts __ F. Supp. 2d. __, No. 4:11cv45 (E.D. Va. Apr. 24, 2012), 2012 U.S. Dist. LEXIS 57530, 2012 WL 1428198
5 BRIEF OF FACEBOOK, INC. AS AMICUS CURIAE IN SUPPORT OF PLAINTIFF-APPELLANT DANIEL RAY CARTER, JR. AND IN SUPPORT OF VACATUR in Bland v. Roberts at pg. 9
6 BRIEF OF FACEBOOK, INC. AS AMICUS CURIAE IN SUPPORT OF PLAINTIFF-APPELLANT DANIEL RAY CARTER, JR. AND IN SUPPORT OF VACATUR in Bland v. Roberts, at pg. 11
7 BRIEF OF FACEBOOK, INC. AS AMICUS CURIAE IN SUPPORT OF PLAINTIFF-APPELLANT DANIEL RAY CARTER, JR. AND IN SUPPORT OF VACATUR in Bland v. Roberts, at pg. 12
8 BRIEF OF FACEBOOK, INC. AS AMICUS CURIAE IN SUPPORT OF PLAINTIFF-APPELLANT DANIEL RAY CARTER, JR. AND IN SUPPORT OF VACATUR in Bland v. Roberts, at pg. 19