Country specific internet censorship is very common to block users of other countries from accessing online content - popular examples of such censorship would be Youtube, Hulu, Pandora and BBC Player, We have shared many anonymous surfing tricks to bypass these limitations but they were mostly limited to act as a USA or UK proxy.
Today's trick allows you to use popular anonymity network TOR providing you an IP address from country of your choice, we will be configuring TOR to have an exit node of our choice so that we can control our IP's country as required.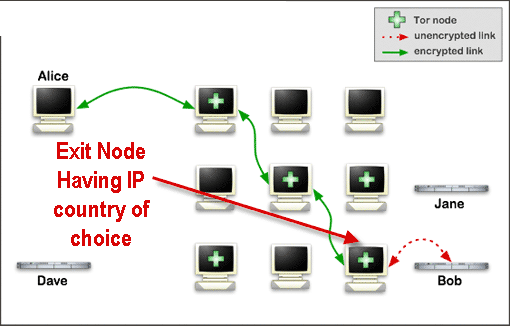 Download TOR + Vidalia bundle from here, I prefer the all-in-one Portable version which comes with Firefox.
Launch Vidalia control panel and click View the network button.

Now navigate to node having country you want to have IP for, right click it and copy the Fingerprint as shown below, you must copy and save fingerprints of three nodes having good bandwidth for best results.

Close Tor Network Map window and click Settings button from Vidalia Control Panel.

Now use the TOR configuration file-path value shown to open TOR config file in notepad.

Now we need to paste the node fingerprint code copied in Step 3 above as shown below :

ExitNodes fingerprint-code-1, fingerprint-code-2, fingerprint-code-3
StrictExitNodes 1

substitute fingerprint-code-1, fingerprint-code-2, fingerprint-code-3 with codes of your choice.

Restart TOR and you will have an IP from one of the three nodes selected.
Using this trick you are now able to have an IP from country of your choice and no-more need to go hunting for country specific proxies when needed.