Photos are reminders of the memorable aesthetic events that occur in our lives. These photos can be taken by a DSLR and other devices that can capture these images. The photos ought to be edited, and a computer does this. The problem arises when we want to transfer these pictures into our 5" + devices. They are many ways put in place to help with the transfer and today is about how to transfer photos from PC to Samsung Galaxy S8 without a hassle.
Using Wondershare's TunesGo software.
This software automates the traditional way of transferring photos from PC to Android. Before you begin the transfer, ensure all prerequisites are in place. These include; installing the latest TunesGo Android Manager software for Samsung in your PC, a USB cable and of course your Galaxy S8 device. The steps proceed as follows;
Run the Wondershare TunesGo software and wait till it opens, then connect your device via the USB cable to the PC. Your device will be automatically detected by TunesGo software, and the transfer may start.
On the top part of the Wondershare TunesGo interface, click on the Photos tab and a photo window will be launched automatically. Click on the Add button if you are only interested in sending a few photos to your Samsung Galaxy S8 device. New albums can also be created from the window, and you can add photos to it. You also have the option of adding photos into a folder and sending the whole folder if you don't want to create an album. Then you can export to device.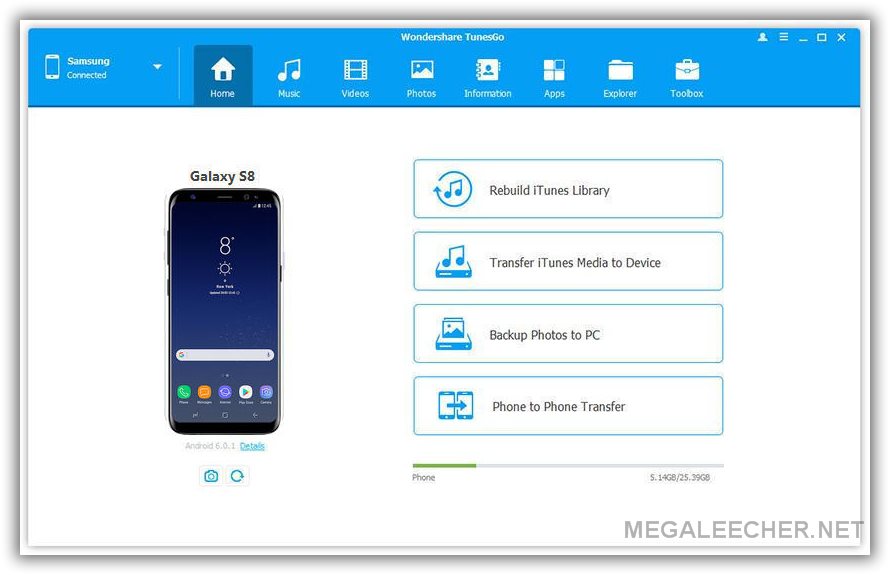 Why use TunesGo for your Samsung Galaxy S8?
TunesGo is bundled with features that make it unmatched when compared to other software for managing smartphones. Coupled with extensive device support, it has the flexibility to handle almost all phones with ease. TunesGo has been specifically tested on Samsung Galaxy S8, and this makes it the paramount Android manager for your S8. Its features are inline with what you would expect when performing operations on your Galaxy S8 from your PC.
Features include;
Music and videos – TunesGo lets you enjoy seamless entertainment on your device. Not only you can transfer media files with original sound quality, but also it fixes your media library and also lets you keep the original. You can edit your music info at any time, and it offers backup services.
Photos – as said earlier, photos help treasure every moment of life, TunesGo makes this a dream come true. It's the best Android Manager when exporting photos to and fro your Samsung Galaxy S8. With TunesGo, you can sort and manage your photos according to your preference. You can also create amazing GIFs using this excellent software.
Contacts and SMS – TunesGo contact manager will manage, import and backup your most essential data. You have the option for importing and export contacts via email or using the CSV and Vcard format. Duplicate contacts are also taken care of. Messages can also be viewed on a larger screen, why strain when you got TunesGo? You can export your messages and back up them up in your PC for later restoration.
Apps – don't waste your internet bandwidth and time anymore. TunesGo batch installs and uninstall apps efficiently, it also restores app data from the previous backup, if you did one. Bloatware can also be taken care of if you have root privileges. Luckily, you can use the One-click Android Root which comes packed in TunesGo software.
File explorer – a small screen is irksome when managing data. TunesGo offers an intuitive interface for its file manager. You just connect your device and launch the file manager. Basic operations such as drag and drop of files are accomplished with ease. You can also browse mobile system folders and other hidden files. To reach every corner of your smartphone and organize media contents without straining your eyes; the screen is large.
Root – TunesGo roots your device and a has zero risk with a high success rate while at it. It is possible using the One-click Android Root. A rooted device offers Superuser privileges; this makes you in charge of your device. This privileges include; speeding up your phone by reducing the amount of RAM used and by clocking your device's CPU speeds, getting rid of annoying ads, extending battery life, uninstalling bloatware and other more operations that can unlock the goodies in your smartphone.
TunesGo offers features that make it the best Android device manager. It's best for Samsung Galaxy S8 as it works optimally and has been tested for it. Not only for photos, but also for managing the entire smartphone operations. It is 100% safe, and you will not regret using Wondershare TunesGo for handling your Samsung Galaxy S8.