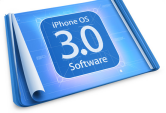 Finally the wait is over with Apple revealing the feature-packed iPhone Software 3.0 update preview for iPhone and iPod Touch at an special media-event, the latest update brings more then 100 new features for the end-users and includes 1000+ new API's for developers further exposing the device for creation of powerful applications.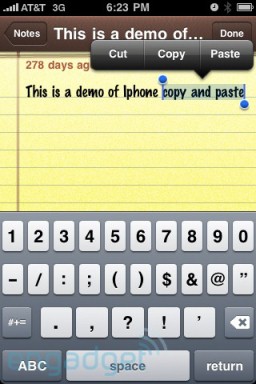 The iPhone OS 3.0 update will be available to end-users this summer and will get pushed as an free upgrade to iPhone customers, However, an one-time $9.95 upgrade fee will be levied on iPod Touch users.
Full features Cut, copy, and paste functionality.
iPhone search feature.
Send photos, contacts, audio files, and location via MMS.
Turn-by-Turn GPS for the Google Maps application.
Compose and read text messages and emails in landscape mode.
Push notifications allowing applications to push new information to users without remaining in the memory and draining device resources.
Support for Stereo Bluetooth.
Anti-phishing and login credentials remembering features in Mobile Safari.
Extended parental controls to include movies, TV shows, and application downloads.
All new voice memo.
New media-player featuring automatic stream quality adjustments according to connection speed.
In-App Purchasing for App Store applications, demonstrated in EA's upcoming 'The Sims 3' game for iPhone.
HDTV streaming for audio and video.
[Image Courtesy : Engadget]