Ongoing Australian forest fire which is suspected to be a work of Jungle Jihad has already claimed more then 181 confirmed casualties till now, the engineers at Google Maps Australia have now created a Google Map mashup detailing and tracking the forest-fires in real-time, the mashup data is being updated in real-time using RSS feeds from Victoria's Country Fire Authority.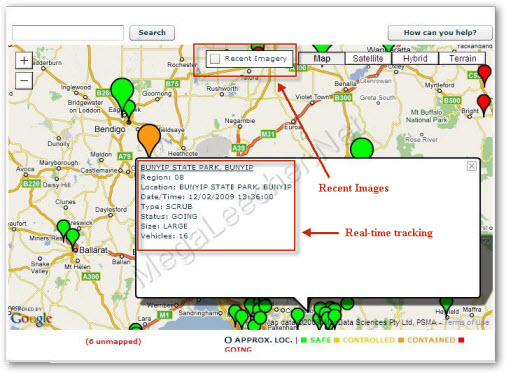 The FireMaps contain color-coded markups displaying the current severity status, clicking on the markup displays detailed information regarding the fire-site, the mashup also makes use of latest available satellite imagery from the Modis Rapid Response project at NASA/GSFC.
Fire Maps engineers wrote on Google Blog:
"We hope that it's of some use to people who may be affected, to emergency services personnel, and that it takes some load off other websites which are being inundated."..."The map certainly makes the scale of this disaster immediately apparent,"
Recent disasters like this have shown how technology can come to help providing updates and opening a new help channel for the affected.