Think powerful portable cellphones and tablets are the future of mobile computing?, how about a small usb-stick sized computing powerhouse with dual-core 1.2-GHz CPU, 802.11n Wi-Fi, Bluetooth, HDMI-out and a microSD card slot having more then enough juice to directly boot into a full-fledged desktop operating system. Codenamed "Cotton Candy" this compact computing powerhouse is already a reality.
Developed by an Norwegian company "FXI Technologies" weighing only 21 grams the tiny PC enables "Any Screen Computing" - the device lets users attach the stick to any HDMI compatible screen and boot into an desktop operating system (currently demoed using preloaded Android 2.3 but specs shows it should support other OS's soon) and let them enjoy full computing including multimedia, computing, phone etc.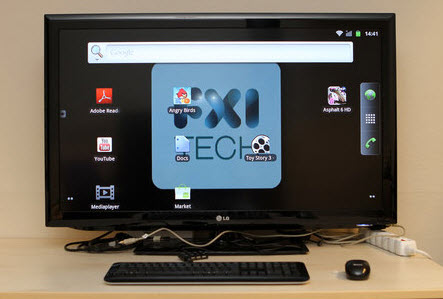 Sadly, users won't see this as a "consumer product" anytime soon - as the company plans to sell "Cotton Candy" to developers and OEMs for now.