Lost or accidentally deleted an important file from your Android Device? Do not worry as there are app available that can easily retrieve data from phones internal memory or memory card / SD card.
Common reasons of data loss include memory card corruption, device became inaccessible or the Android OS itself become damaged and is no longer able to boot. Under such circumstances, you need to stop using the device or needed to be turned off. Please note that further saving files or installing applications after data loss instance may leads to permanent deletion of your files which cannot be recovered even by using professional data recovery applications.
Stellar Phoenix Data Recovery for Android provides safe and effortless environment to salvage important files such as contacts, text messages, Call Log, pictures and more from latest running Android OS.
Recovering files from your Android device is never been easier. However, you can now perform recovery of your android device like never before. A general thumb of rule is not to store data on the device you're trying to recover from.
#1. Download and install Stellar Phoenix Data Recovery for Android App from the Google Play Store.
#2. Once installed, you can navigate to your device home screen and tap it to start. Keep in mind that you'll need to root your device before getting all this started. This app needed rooting to interact with master records of your device and discover files with deleted or missing entries.
#3. As soon as the App launches, you'll see the software home screen facilitating list of options to recover deleted messages, call records, photos, audio and videos etc. Click on your desired option to proceed and software will begin scanning the device for desired type of files recovery.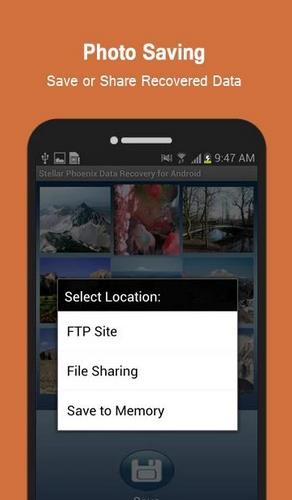 Additionally, you can choose to save the recovered files on verity of locations including external SD card, FTP location, Dropbox, Google Drive etc.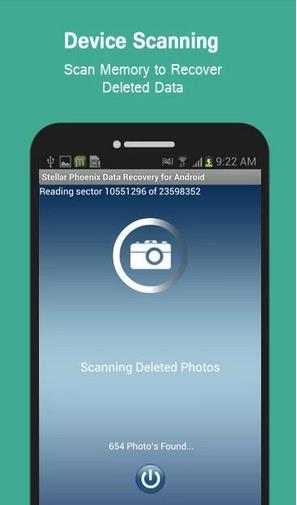 That's it. You can bring back your lost memories from Android device in just a matter of time.
• Facilitates powerful Android recovery platforms for all kind of users.
• Successfully restore contacts, text messages, call records, calendar records, pictures & videos etc.
• Allows saving of recovered files to different locations including Facebook, Yahoo Mail, Gmail, Google Drive, FTP Locations etc.
• Support list type of files including JPEGS, MPEG, WMV, CSV, MVK, PDF, XLS, DOC etc.
• Supports Android device recovery from internal and external memory.
• File preview option lets you see the recoverable files and folders before actual recovery.
• Supports recovery from list of Smartphones and tablets including Samsung, Motorola, Google, Nexus, LG, SONY, ZTE and more.
• The tool is compatible with the latest Android OS versions including 5.0, 4.4, 4.1, 4.0, 3.0, 2.1
Software offers verity of benefits to its users in terms of security and fastest possible recovery. You can get back all your lost or deleted files stored on your Android device in just 3 simple steps: Select, Scan and Recover.
Data recovery procedure needs to be followed carefully. Don't forget to read the instructions before proceedings to data recovery to avoid losing your files permanently. It's also recommended to take help from data recovery experts if you feel yourself uncomfortable performing data recovery.
Stellar Data Recovery is giving this utility with . You can get pre-activated app from the Google play store for a limited period of time. Visit https://play.google.com/store/apps/details?id=com.stellarinfo.stellarandroidrecovery and explore all the features in detail as well as the link to download this app absolutely free.
Don't forget to add your feedback/opinion in the comment section as well as share this with your loved ones and family members so they can also take benefit from it.