Apple iPad has been a media hit with massive publicity during the recent announcement event, however after the announcement iPad bashing started due to it's limited functionality and non-support for prominent web-technologies like Adobe Flash - thanks to Citrix a virtualization software solution provider it seems all this can be changed with use of Citrix Receiver virtualization application for Apple iPad to run a instance of Windows 7 on the platform.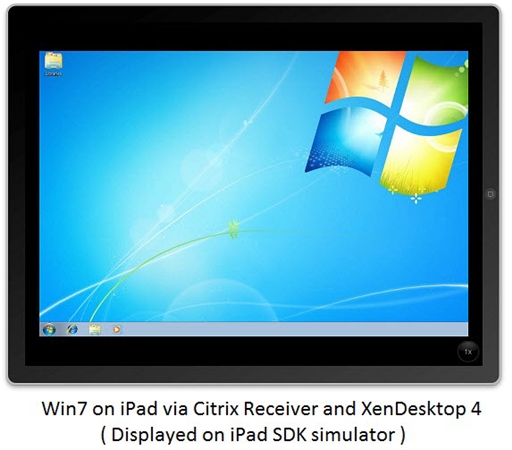 According to Citrix the iPad application will take full benefit of the 9.7 inch display and powerful hardware of Apple iPad to offer a good experience:
Chances are you have a Laptop or PC and a Smartphone already so you need to rationalize how you will use it beyond e-books and browsing. Well if your company has XenDesktop or XenApp you will be happy to know you will be able to use your iPad for real work as well. It turns out the 9.7 inch display on the iPad with a 1024x768 screen resolution works great for a full VDI XenDesktop. Windows applications run unmodified and securely in the data center, and even multiple applications at once. The advancements that were made for the Citrix Receiver for iPhone will carry over to the iPad, however the iPhone restrictions of screen size and small keyboards are overcome with the iPad. It's a beautiful thing ! The iPad looks to be an ideal end point device that can empower users to be productive were ever they are and IT will be able to safely deliver company hosted virtual desktops and apps without worry.
It would be nice to see if anybody could possibly jailbreak the Apple iPad and make it run Windows 7 natively, just a thought.