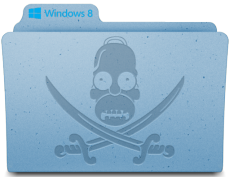 Offering Windows 8 at cheap prices is definitely a step Microsoft should consider to beat piracy and the recent rush to grab low priced Windows 8 Upgrade offer should testify for that. However, no matter how cheap it gets there still will be users wanting to get things for free, and for them their will always be a hack or crack to bypass copy protection and activation procedures.
Unlike Windows 7 doing an activation crack on Microsoft Windows 8 is much harder as the operating-system features newer technology to detect and protect illegal activations. Like every other software out there pirates always find a way to beat the protection allowing mass pirating, and once again this has been done for Microsoft Windows 8.
The KMS Activator for Windows 8 is still the prominent method to crack Windows 8 and use it illegally, another variant of the same method seems to be out now as Windows.8.Activator.K.G.v1.11.2012-Genial7
which not only hactivates but also changes some files to make your computer look activated on all relevant screens.
Now, while pirates can activate and use illegal copies of windows 8 - it should be noted that these are not real cracks and work by exploiting the genuine Microsoft KMS activation service aimed for volume licensing. KMS activation method allows copies to Microsoft software's to be activated in bulk legally for 180 days. Similar to KMS activator crack for Windows 8 this new hactivation utility performs the same KMS activations (using an illegal or unauthorized server) which works by installing a service which autoruns on 179/180the day of hactivation to reactivate without user knowing about it. The only additional job done by this new utility is to change some files and make Windows 8 cosmetically report that it is fully activated hiding the real status of 180 days KMS activation.
Downloading and using any unofficial build of Windows 8 or any hack/crack is not only illegal and a crime punishable by law, but also pose great security risk for user data and should be avoided. The information posted here is for news purpose only and any illegal links posted in comments will be deleted.