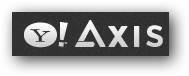 Yahoo has unveiled there new venture "Yahoo Axis Browser", the service allows users to search smarter and faster with instant answers and visual search previews. The exciting part of the offering is the ability to keep your browsing session active across desktop, mobile and tablet devices - which means users can continue surfing exactly where they left on another device.
Introduction video below.
While the video introduces Yahoo Axis (http://axis.yahoo.com/) as a new browser but in reality it's a addon to your existing web-browsers as shown below (addon in Firefox).