Every email you receive or send accompany informational email-headers which can be used to trace its originating location and the path it took to reach you, these headers come handy when you want to track the geographical location of the sender or want to report abused IP addresses of Spam or Scam emails.
If you are a computer savvy user you can view the email-headers and trace the IP location manually but there exist easy to use automated software utilities which gets the job done without any hassle, one such leading software is eMailTrackerPro which costs $29.95 USD to buy but for a limited time you can grab a fully-functional free license key of this utility and start tracking your email originating location.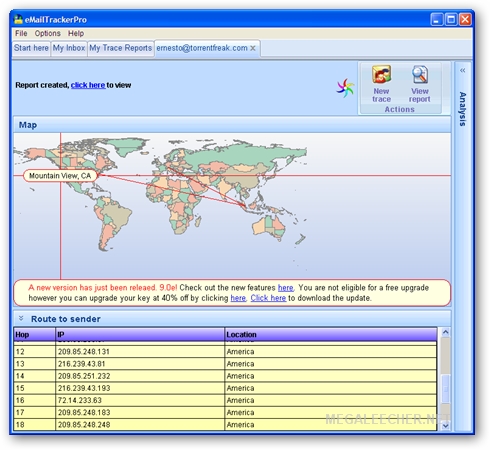 To benefit from this limited period free promotional offer for eMailTrackerPro v 8 (the latest version being v 9) follow the steps shown below :
Download eMailTrackerPro v 8 setup from here [Size : 6.5 MB].
Visit this promotional page and enter your email address fro receiving the complimentry license code.

You should receive the registration code in your email instantly.

Use the registration code to unlock the full-version of the utility.