We are giving away FREE EXCLUSIVE PPTP based USA/UK VPN accounts, click here.


We have reviewed all major free VPN service providers, but new free anonymity service Ace VPN takes the cake for being the best free VPN service provider out there, the invite only service allows users to enjoy full anonymity and secure data transfer via fast encrypted SSL VPN tunnels located at various servers world-over.

The service is currently under limited availability and requires an invite for participation, we have been provided with 25+ exclusive invites for our blog readers, just follow the steps next to grab your personal invite.
Since, the invites are limited (more coming as they expand their network) we will be giving them to readers who socially-bookmark this post at services like StumbleUpon, simply bookmark the post and use the contact form to send us your bookmark page, regular commenter's can send their usernames and they will win a invite straight-away.
Ace VPN makes use of open-source VPN client OpenVPN to provide its services, you simply install the client and use pre-configured config files to connect using your username and password.
After, installation and configuration, if you receive the error sown below, simply install the TAP-Win32 adapter by going to Start -> All Programs -> OpenVPN -> Add a new TAP-Win32 virtual ethernet adapter.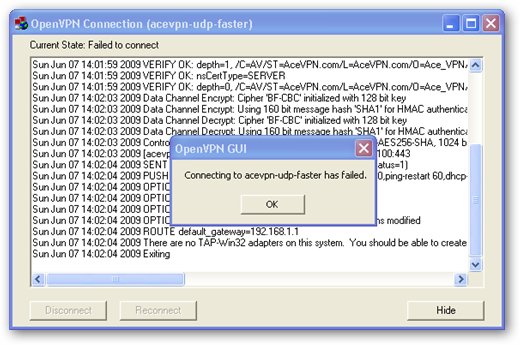 Apart from invite-only free VPN service, Ace VPN also provides excellent load-balanced fast online proxy service which requires no invitation and has several servers to provide fast anonymous browsing.
We are giving away FREE EXCLUSIVE PPTP based USA/UK VPN accounts, click here.