Skyfire is a popular mobile web-browser available on Windows Mobile, Google Android, and Symbian platforms, unlike other mobile web-browsers Skyfire renders requested webpages on a proprietary server and then relays the result to end user's mobile phone. Using the same server-side rendering technology Skyfire is now available on Apple iOS letting users enjoy Adobe Flash powered videos on webpages which is not natively supported. While Flash has already been ported to some extent on iOS via Project Frash but Skyfire is available via official Apple Store and does not require a jailbroken phone to work like Frash.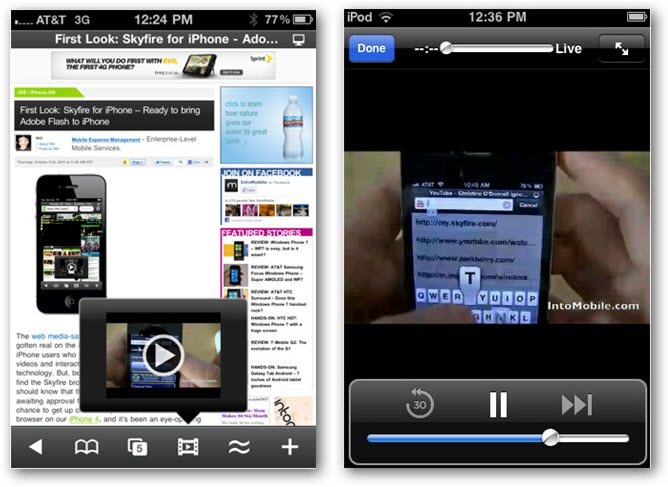 However, there are also some limitations with Skyfire on iOS like currently only Flash VIDEOS are supported and that too not on all websites (Over 100,000 web sites presently supported, with more added every day).
• Play millions of Flash videos – everyday, with no limits.
• All-new 'Skybar' toolbar gives one-click access to video and related content
• Stay in touch: Unique Facebook and Twitter 'Quickview' allows you to see your wall and feeds with one click.
• Be social: Share via Facebook and Twitter.
• Share to more services including GReader, Instapaper, Pinboard, Read It Later and Tumblr (New)
• Standard browser elements: Tabs, search, sharing, bookmarks, history, etc.
• Video search, with safe search option, helps you quickly find videos about your favorite topic
• 'Desktop' option loads pages as on a desktop browser, giving a greater selection of video (vs. mobile sites)
• Private Browsing option: Browse with no history and cookies left behind
• Click the 'Explore' button for related videos, news trends, photos and tweets.
Skyfire for iOS costs $2.99 and is available via iTunes Store - http://goo.gl/ANXPe.