MacX DVD Ripper Pro is the best and fastest DVD ripper for Mac users to rip both homemade and commercial DVDs to any format, be it MP4, HEVC/H.264, MOV, MPEG4, AVI, QT, MP3, etc. It supports every type of knotty DVDs including the 99-title DVD, new DVD, and damaged and unplayable DVD. This DVD Ripper is absolutely the best item in the market that digitalizes DVDs and backups the DVD collections in any of the required formats.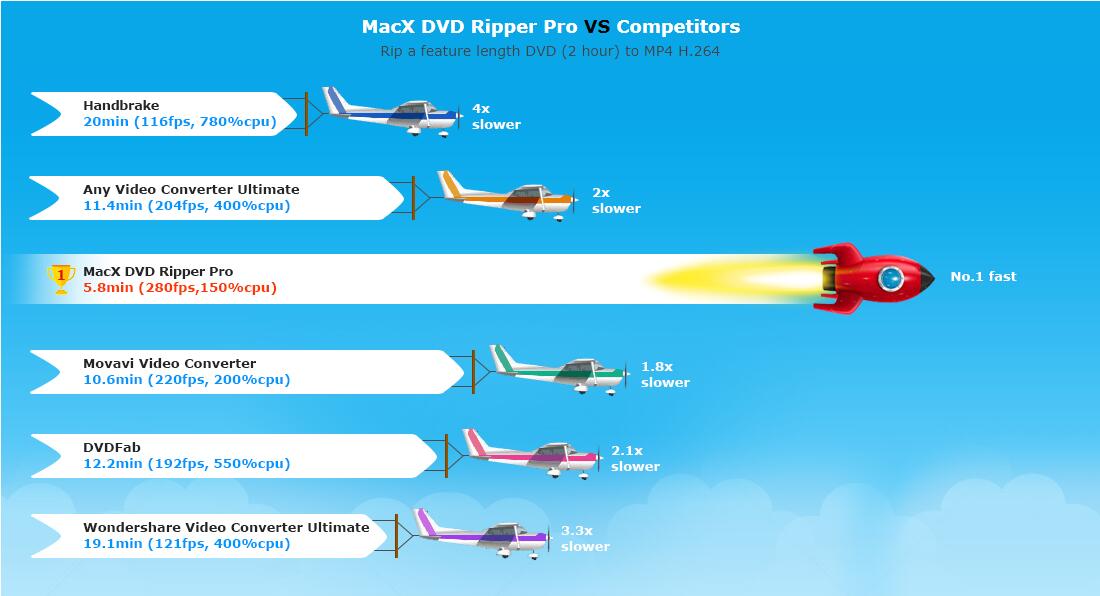 This product is a must-have for all Mac users to rip all DVD movies, TV shows DVDs, Disney kids DVDs, Old DVDs, etc to MP4 and various formats for playback on iPad, tablet, iPhone, Android and more devices for enjoyment while going out.
MacX DVD Ripper Pro outperforms its competitors as it supports the unique and exclusive Level-3 Hardware Acceleration Tech powered by Intel® QSV, Nvidia® (CUDA/NVENC). It extends HW to video decoding, processing, and encoding, making DVD ripping 5X faster than others.
While the traditional rippers may take 1.5 hours to extract content from the DVD, MacX's solution needs only 5 minutes to rip a full-length DVD with a maximum speed up to 320 FPS.
It reinforces the leadership in the converting field by timely triumphing over all the complicated DVDs, including recently released DVD movies, kids Disney movies, TV series DVDs, homemade DVDs, 99-title DVDs, workout DVDs, and other old damaged or unplayable DVDs.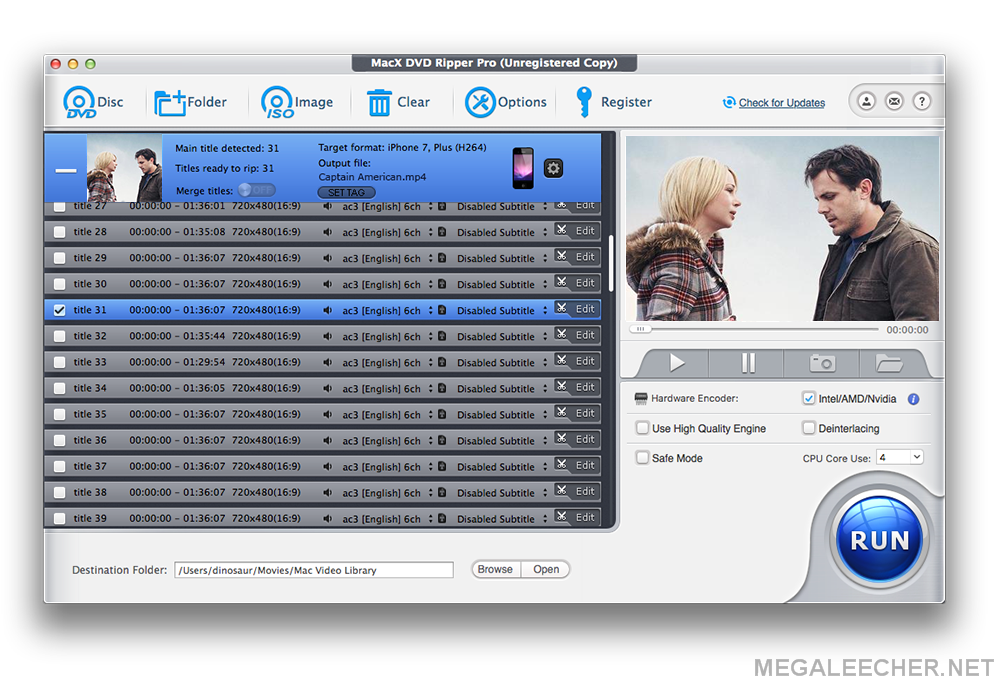 Turn Your Device to a Portable DVD Player

If you are going out for a vacation and have to spend long hours of the journey on a plane or any vehicle, you won't be bored anymore. Now you can enjoy the Hollywood, kids DVD movies, etc. even when you are going out as MacX DVD Ripper Pro turns your iPad, tablet, iPhone, Android to the portable DVD player, making it possible to watch DVD movies on the go.
It transfers DVD to iPhone, iPad, Android for playback anywhere and anytime. It assists the users to convert DVD to MP4, the most common format and more like H.264, MOV, HEVC, MKV, AVI, etc.
Although the DVD ripper can convert DVDs to any type of format, yet it is suggested that you rip DVD to MP4 video for your media device to get lossless output video quality.
Advantages of MP4 Format
Here are some of the advantages of the MP4 format that will definitely convince you to rip your DVDs into MP4-
• It takes up less space than other video formats while keeping a sharp, clear and precise image.
• It is accepted by most portable media devices like iPhone, iPad, Android, etc, and computers, video players.
• This format is easy to store and manage on computers and USB and is hard to be corrupted.
• The MP4 format is suitable for video streaming over the internet.
MacX DVD Ripper Pro- Best Tool to Rip DVD to MP4

As mentioned before MacX DVD Ripper Pro is the world's fastest DVD ripping speed supported by the exclusive Level-3 Hardware Acceleration Tech, making it the best tool to rip DVD to MP4 format.
With the batch conversion, multi-core CPU, hyper-threading, and the unique Intel QSV tech get the most out of hardware acceleration to speed up DVD ripping by using CPU and GPU to the maximum. The output quality, however, remains the same as the original. The DVD Ripper for Mac rips a full DVD without any output quality loss, thus leaving the competitors behind in the race.
For advanced users, it also gives the choice to adjust the decoder/encoder parameters. The output settings can be adjusted in terms of video bitrate, video codec, aspect ratio, frame rate, resolution, audio sample rate, bitrates, audio channel, audio codec, etc.
Steps To Convert DVD to MP4

DVD remains popular when there's a big movie or TV show released, despite the videos streaming on Netflix wraps around the globe. If you have a huge collection of DVDs, you may want to rip the contents off discs and save them in digital format like MP4. You can now trim video clips/segments from DVD, crop frame size, merge separate movie titles into one, add external subtitle to a movie, and adjust various video parameters.
Let us now learn about various steps to convert and rip DVD to MP4-
1. Load DVD Movies: Click 'Disc' button to import the DVD files or choose to rip DVD Video TS folder to MP4 or convert ISO to MP$ by clicking the 'Path' button. After a few seconds, all DVD titles will be listed and the main title will be selected automatically.
2. Choose MP4 as Output Video Format: From General Profiles category, choose MP4 Video encoded with H264 + AAC as output format. You can even adjust quality, speed, and size using the slide bar.
3. Opt for Desired Subtitle Track: Tap the expand icon at the selected main title. You can select the desired subtitle track, e.g., English, Spanish, French, Forced subtitles only, disabled subtitle or load subtitle you downloaded or made by your own. Also, choose the audio track, next to the subtitle option.
You are also suggested to manually tick 'High Quality Engine' and 'De-interlacing' options if output quality is your top priority. These options are present on the lower right corner of the main interface.
4. Select Output Folder: Click 'Browse' to select the path for output files storage.
5. Start Conversion: Click 'RUN' to start the conversion. The DVD conversion window pops up. It shows you the processing percentage and the GPU hardware acceleration tech it utilizes- Intel QSV, Nvidia or AMD. (Level-3 hardware acceleration is auto-activated.)
After the conversion, you can sync the movie to iPad, iPhone with iTunes or MacX MediaTrans.
Convert your valuable DVD movies to MP4 and revive the happiness on your iPhone, iPad, and Android. Savor your DVD collections on the way to summer vacations!
Participate in the MacX DVD Share to Win Contest!!
Share MacX DVD contest page on Facebook and get a chance to win the MacX DVD Ripper Pro license key. Hurry up! What are you waiting for?
The last date of the contest is . Grab your chance before the contest closes!