After succesfull commerical launching of Galaxy Phones with curved screen edges, Samsung have leaped ahead of everybody else in delivering flexible and foldable display technology to realise it's display centric vision of the future. Few months ago Samsung demoed Rollable OLED's and now Samsung will soon convert your dream of having a bendable phone in your hand into a reality.
The company has officially announced that it will release two bendable smartphones in 2017. The screen of these phones will be bendable allowing you to bend the screen just like your wallet or a cosmetic box. One of these smartphones will have 8 inches screen and in the bent form, it will reduce to 5 inches. Customers will be able to use the phone as a tablet as well as a traditional smartphone.
These bendable phones will be game-changers. According to experts, the biggest issue that Samsung was facing in developing these bendable screen smartphones was creating plastic that is durable and that does not break. This is something that Samsung has now achieved.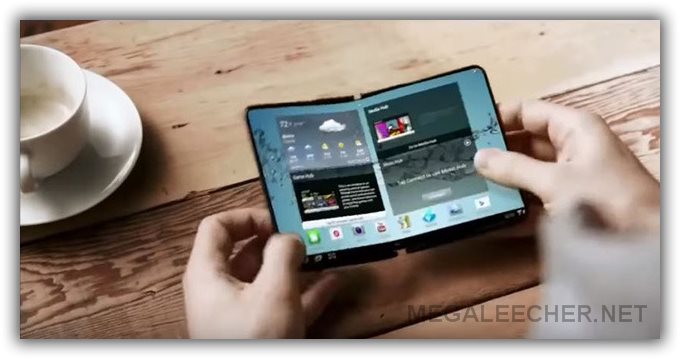 Keep in mind, Samsung will be the first ever company to release bendable smartphones, and this will give them a massive edge over Apple – their major competitor in the smartphone market.
Bendable screen phones are not exactly a phone that you can bend in any direction and smash it on the wall rather these are phones having bendable screens only. The body of the phone may or may not bend – only time will tell this.
The idea is that the screen will be bendable allowing you to fold the phone and put it in your pocket, purse or anywhere. It is not sure if the screen will have a plastic body attached to it or not.
With bendable screen, the phone becomes durable and almost unbreakable. It will be like carrying a flexible phone with you which just doesn't break or crack. These will be made of extremely durable and transparent superior quality plastic.
Traditional phones do not have bendable screens and aren't durable. Most of the current smartphones are fragile and must be handled with care.
As an end user, a bendable screen phone seems to be a one-time investment where your phone will not break. You will only get rid of it when you will lose it – no other chance. It might cost you a little more than a traditional phone, but it will change the way you use and handle your phones.
You can use it freely for potentially an unlimited duration or for as long as you need. This is not the case with the phones that we use now. They have a limited life.
These bendable screen phones are no less than a blessing. Not only that they use OLED which is the latest technology, but these phones will make our lives easier and happier.
One of the analysts at IBK securities said that these two new bendable screen phones by Samsung will change the entire telecom industry. However, we have to wait and see how Samsung manages to come up with a user interface for these phones. This is a challenge for Samsung. We have to wait and see how it manages to deal with it. The first phone will be released in February 2017. Keep your fingers crossed for the first ever bendable screen phone from Samsung.