The Samsung Galaxy S4 intro video shared earlier gives us a comprehensive glimpse into the new offering from the electronics giant. Here's a walkthrough of these features to let you decide whether this is just another upgrade with useless features labelled as innovation or something useful.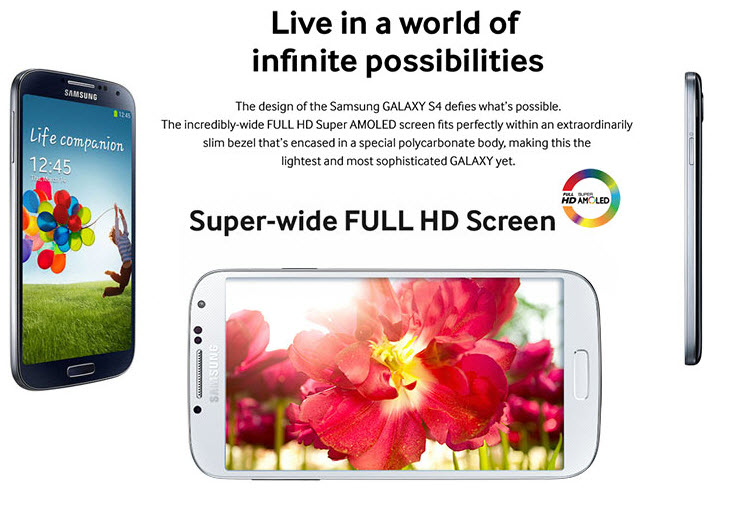 Samsung has been enjoying the top positions in global cellphones manufacturer rankings, thanks to their successful Galaxy S series of smartphones lineup. With the success of Galaxy S3 the South Korean Smartphone giant has now announced the much awaited Samsung Galaxy S4 to the hit series.
The Galaxy S series has evolved with every new launch, and same is with Samsung S4. It has come up with various new add on features which are very different from any other smartphone. While the Galaxy S3 was tagged "designed for humans" to highlight the smart-sensors, the new Galaxy SIV is getting marketed with punchline - "Life companion" taking these smart features to the next level.
Samsung S4 has been pillared on four aspects of life as Fun, Relationship, Convenience and Care - equipped with a 1.9 Ghz processor, 13 MP camera, vibrant SuperAMOLED display, plethora of connectivity options and sensors to let users communicate anytime anywhere, monitor health goals and making life full of convenience.
The smartphone features a 5-inch, Full-HD (1920x1080) Super AMOLED screen with crystal clear 441ppi pixel density. Although, it looks similar to S3 but on closer inspection once can notice the lesser curves at the edges. As suaul the internal storage ranges from 16GB to 64GB with optional expandable storage using SD cards upto 64GB. The outer polycarbonate case is thinner at just 7.9mm and lighter than S3. Battery Backup seems to be better as it is running on Super AMOLED technology and have 2600mAh battery. The battery is removable, which makes it handy to replace and let users carry a spare for extended usage. Users can choose from two color variants 'white frost' and 'black mist'.
- Hover your finger over the phone and use phone features using Air Gestures without touching the phone screen. Air view lets users go through their emails or photos by just hovering finger over it, while Air gesture lets them browse webpages, change music track and answer the call just by the wave of the hand. This feature comes specially handy when your hands are not clean to touch the screen.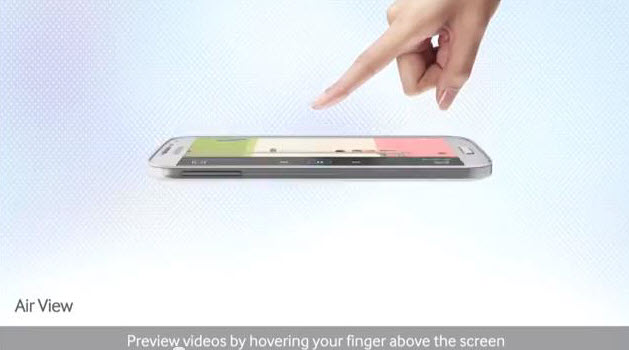 - Play games or watch videos without a worry of disturbance as it will stop as you take off your eyes of it. The front camera is being used for the Smart Pause technology which knows when you are looking at the screen, it pauses the game/video when you not looking at the screen and starts again when looked back at.
- Galaxy S4 has a 13-megapixel rear camera, complete with Flash and in the front is a 2-megapixel camera. With high megapixel count the pictures are much detailed and clear. The cherry on the cake is the new DualShot feature, which allows users to use both the front and rear cameras to capture and get captured at the same moment. The feature works for both videos and photos letting the photographer be a part of the memory.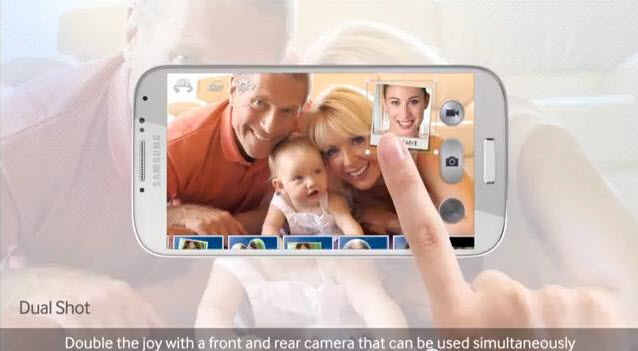 - The phone features an IR transmitter which can control a plethora of gadgets like TV's, multimedia player's, home theaters, STB's, AC's and anything else which uses an IR remote to work. This could be the most liked feature of this phone, imagine your phone being the ultimate "universal remote" to control all the gadgets and gizmos around you. Mix this with some smart coding via rooted apps and users can come up with awesome homebrew applications like an gesture control which will fire the proper IR codes to start your Set-top-box, the TV and change to your favorite channel all with a single gesture.
- S-Health which is a fitness app can be used with the extra hardware to know your height, weight, blood sugar or blood pressure. It also has an accessory of S band, which can measure your heart beat.
Galaxy S4 comes with NFC which makes it compatible with various e-commerce payment portals and can buy online goods on move.
Looking at the phone and the features it has, makes it a very different offering qualifying for the market leading position. Let's wait till April when this gets launched and let users decide it's fate whether it is worth it or not.