iTunes is a pre-installed desktop app for every Mac. It manages music, movies, podcasts, iTunes U and other media content in iTunes library. It offers iTunes Store for us to purchase music, movies and TV shows. It creates backups for our devices and performs restoration if needed. Among all functions in iTunes, however, it's just a pain to sync files between your Mac and your devices and to fix this we have shared many free and paid itunes alternative utilities for Windows and MacOS in past. Another such free utility - is what we will cover today.
SyncBird from MiniCreo is a free desktop app made to organize your iPhone, iPad and iPod content without iTunes. Similar with other iPhone File Manager software, it allows you to copy music, photos, videos and other media content to and from your device. The extraordinary part is, with SyncBird, you'll be able to clean up all kinds of iOS / iTunes junk file. By doing so, you'll reclaim more valuable storage on your iPhone, iPad and iTunes library. Here are all highlights of this free iPhone File Transfer software.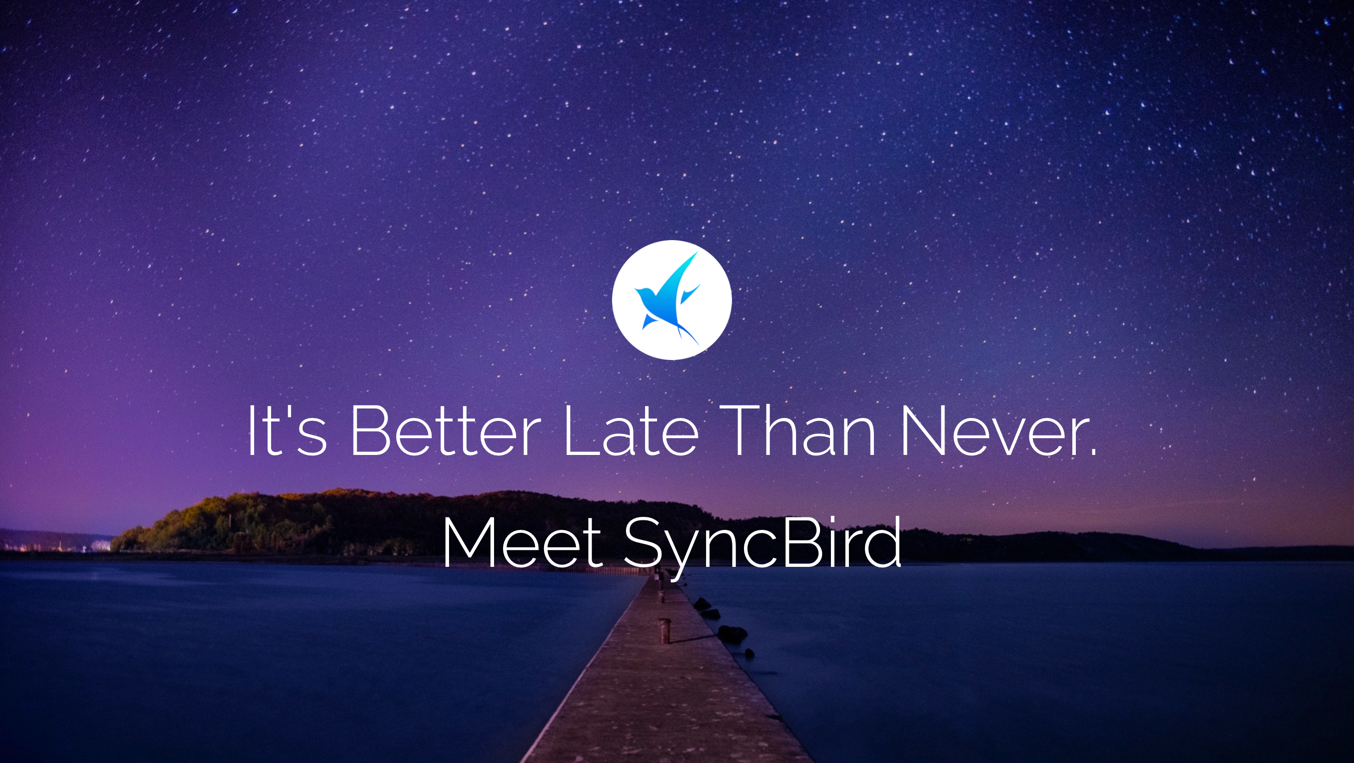 Flash Sync - Adds New Content to Your iPhone Without Losing Existing Ones.
Not everyone is iTunes fan. If you're not satisfied with iTunes to sync music to your iPhone or your iPod, the Flash Sync feature in SyncBird gives you a better iTunes alternative solution. With its one-stop syncing workflow, you can add new songs from any iTunes library, on any computer, right onto your device. Best of all, by using Flash Sync, you won't lose the existing content on your device.
PhoneCare - Cleans Accumulated iOS Junks and Reclaims Storage for Your Device.
The PhoneCare feature in SyncBird gives complete caring service for your iOS devices. With the usage of time, you may find your iPhone or iPad is running out of space or just getting sluggish. That's mainly because there are too many accumulated junk files eating up iPhone storage and slowing down iOS performance. Guess what files are useless on your iPhone? Here are some clues.
- When an application crashes on an iOS device, the operating system creates a crash report or a crash log. The report is stored on the device.
- Data that is used only temporarily was stored in the temp directory on your iPhone. These files are supposed to get deleted once they fulfill the temporarily calculation purpose.
- Due to interrupted or unfinished iTunes synchronization, some media files, like your music, photos, books, etc., were not imported to your device properly. In this case, you won't notice these orphaned items but they still take space on your device.
- When you edit a photo in iOS Photos app, it will create duplicated copies to prevent you from losing original picture. As your photo library grows, it's suggested to clean up these cached images regularly.
- You may have used some third party software to upload files onto your iPhone. PhoneCare helps you locate them and clean up unwanted ones.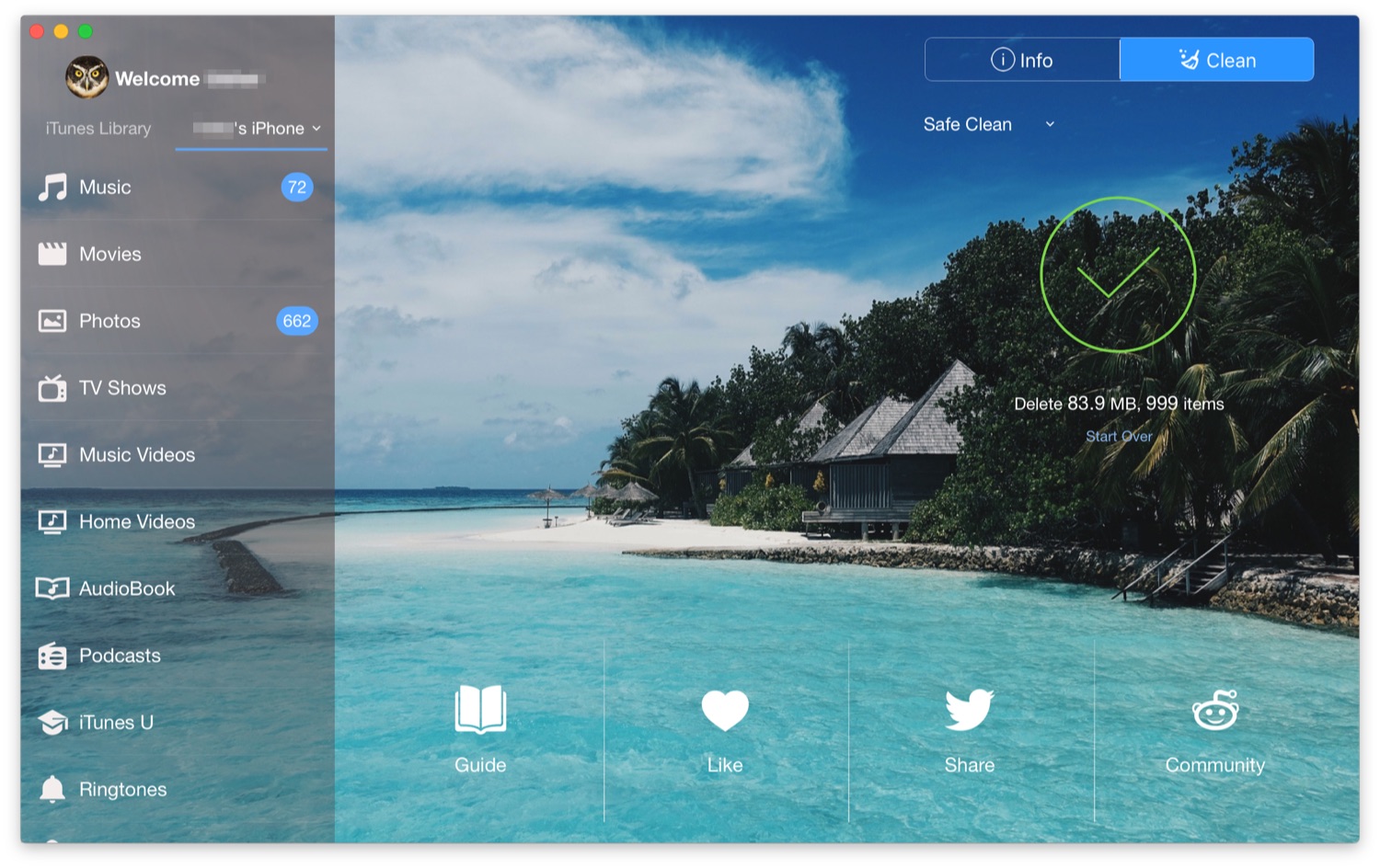 TunesClean - Slims Down Your iTunes Library by Wiping Out Orphaned Dada.
As your media collection grows, probably you are having a bloated iTunes library on your computer. The TunesClean feature in SyncBird comes to search through your library, find useless cache and invalid files, clean them up in one click so as to reclaim more free storage for your iTunes library.
- You may have updated your Apple devices for many times in recent years. If you used to create device backup with iTunes, some backup procedures may have unexpected interferences. TunesClean finds and deletes these invalid device backup files.
- Not every iTunes download goes smoothly. TunesClean will scan your iTunes library to locate these unfinished downloads and give you an option to clean them up.
- If you upgrade iOS version on your iPhone, iPad with iTunes, the downloaded iOS update file will be useless once you finish the upgrade. TunesClean will get it rid of your computer.
- When you buy the HD version of a movie with iTunes Extras, you get special features along with your movie. The special features might include photo galleries, deleted scenes, exclusive interviews, or behind-the-scenes footage. Let TunesClean to clean up iTunes Extras so as to reclaim more storage on your computer.
The Bottom Line
To sum up, if you are looking for a solid and reliable iTunes alternative solution to manage your iPhone, iPad and iPod content, SyncBird is definitely worth your try. Apart from its comprehensive iOS / iTunes syncing and tuning features, this freeware also brings fresh material design on macOS. For more detailed information SyncBird, go to its homepage: https://www.minicreo.com/syncbird/