Having broken phone at home? Almost all people have broken phone experiences in their daily life, funny or stupid. This month From May 5-25, Wondershare organized a great contest to win a grand price of iPhone 5S, iPhone cases, Mophie Space Pak, Bose Mobile Headset and Wondershare Dr.Fone. What you need to do is to tell people your broken phone story via text, meme, or video. Enter the contest here: http://www.wondershare.com/broken-phone/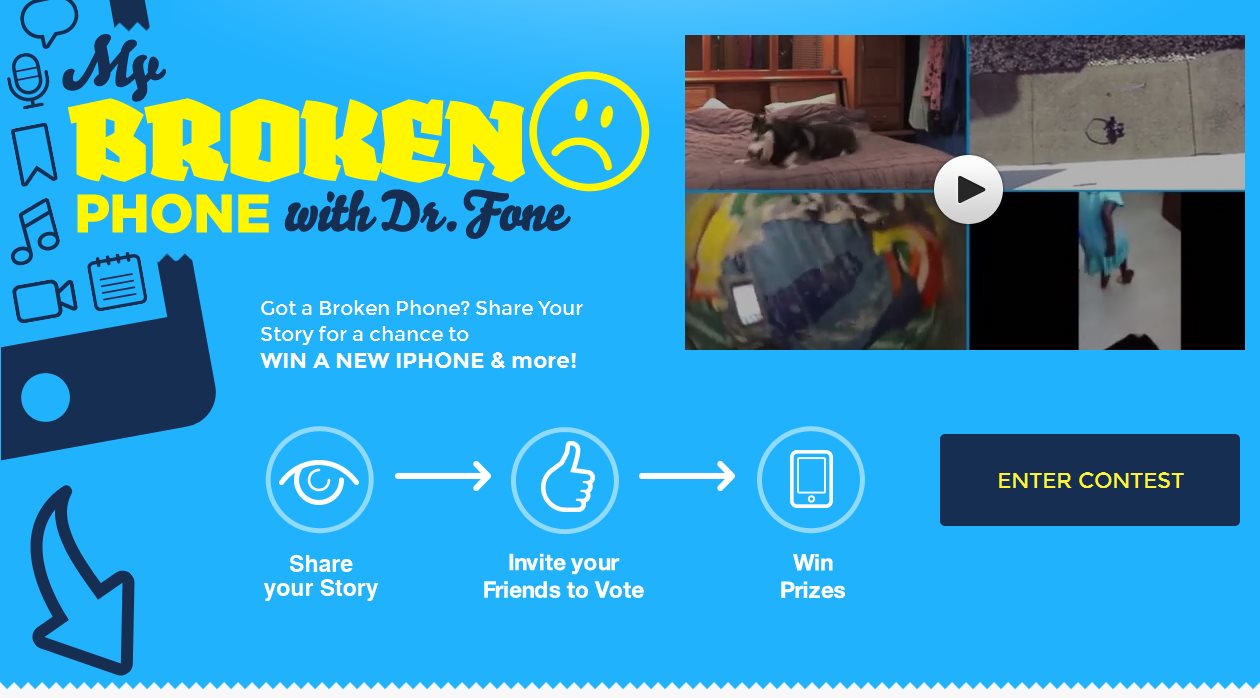 Every week stories with a minimum of 50 views will be come into a random draw to win iPhone cases. So don't forget to share your broken phone stories with your friends on social networks to get more views.
After the submission period, there is a voting period starting from May 26-June 8. You have to remind all your family members and friends to vote for your story. The more votes, the more chance to win. The top 5 voted stories of each category will enter the judget period.
Judging period begins from June 9-15. 15 top voted stories will be scored according to Creativity/Humour, the story, relevance, popularity/sharing, overall Impression. Final prize will be determined by by votes & judges scores for each category.
On June 16, the winners will be announced on the contest page, Wondershare official Facebook, Twitter, Google+, and email.
1. Must be 18 years or older to enter the contest.
2. Must have a valid United States / Canada mailing address to be eligible to claim a price.
3. Contest starts on May 5th, 2014 continues until June 15th, 2014 at which time it will be renewed, altered or ended.
4. Changes to the contest will be announced on wondershare.com campaign page.
5. Submissions MUST be original works of entrants to qualify.
6. Wondershare.com reserves the right to disqualify any contestants for any reason and at its sole discretion.
And if you already own a broken iPhone, you can also read on for how to fix broken iPhone here: http://www.wondershare.com/broken-phone/fix-broken-iphone.html