While OEM manufacturer's like Samsung are still rolling out Android 2.2 Froyo Update across various devices, Google has finally announced the much awaited "Android 2.3 Gingerbread". Being advertised as the "fastest version of android yet" (check video) the new major update to the world's second-most popular mobile operating-system brings better gaming, more refined and speedier UI, support for Near Field Communication, updated Linux kernel, one touch selection/copy/paste, improved power management, faster HTTP communication and much more.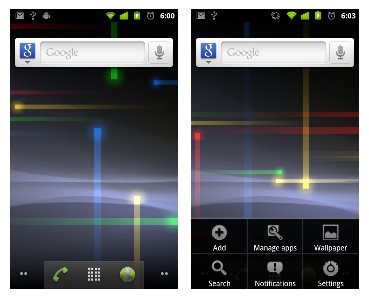 Today we're announcing a new version of the Android platform — Android 2.3 (Gingerbread). It includes many new platform technologies and APIs to help developers create great apps. Some of the highlights include:

Enhancements for game development: To improve overall responsiveness, we've added a new concurrent garbage collector and optimized the platform's overall event handling. We've also given developers native access to more parts of the system by exposing a broad set of native APIs. From native code, applications can now access input and sensor events, EGL/OpenGL ES, OpenSL ES, and assets, as well a new framework for managing lifecycle and windows. For precise motion processing, developers can use several new sensor types, including gyroscope.

Rich multimedia: To provide a great multimedia environment for games and other applications, we've added support for the new video formats VP8 and WebM, as well as support for AAC and AMR-wideband encoding. The platform also provides new audio effects such as reverb, equalization, headphone virtualization, and bass boost.

New forms of communication: The platform now includes support for front-facing camera, SIP/VOIP, and Near Field Communications (NFC), to let developers include new capabilities in their applications.

For a complete overview of what's new in the platform, see the Android 2.3 Platform Highlights.

Alongside the new platform, we are releasing updates to the SDK Tools (r8), NDK, and ADT Plugin for Eclipse (8.0.0). New features include:

Simplified debug builds: Developers can easily generate debug packages without having to manually configure the application's manifest, making workflow more efficient.

Integrated ProGuard support: ProGuard is now packaged with the SDK Tools. Developers can now obfuscate their code as an integrated part of a release build.

HierarchyViewer improvements: The HierarchyViewer tool includes an updated UI and is now accessible directly from the ADT Plugin.

Preview of new UI Builder: An early release of a new visual layout editor lets developers create layouts in ADT by dragging and dropping UI elements from contextual menus. It's a work in progress and we intend to iterate quickly on it.
UI refinements for simplicity and speed - The user interface is refined in many ways across the system, making it easier to learn, faster to use, and more power-efficient. A simplified visual theme of colors against black brings vividness and contrast to the notification bar, menus, and other parts of the UI. Changes in menus and settings make it easier for the user to navigate and control the features of the system and device.
Various improvements for game development like a new concurrent garbage collector, more native APIs, updated video drivers, and support for new sensors like gyroscope.
Faster, more intuitive text input - The Android soft keyboard is redesigned and optimized for faster text input and editing. The keys themselves are reshaped and repositioned for improved targeting, making them easier to see and press accurately, even at high speeds. The keyboard also displays the current character and dictionary suggestions in a larger, more vivid style that is easier to read.

The keyboard adds the capability to correct entered words from suggestions in the dictionary. As the user selects a word already entered, the keyboard displays suggestions that the user can choose from, to replace the selection. The user can also switch to voice input mode to replace the selection. Smart suggestions let the user accept a suggestion and then return to correct it later, if needed, from the original set of suggestions.

New multitouch key-chording lets the user quickly enter numbers and symbols by pressing Shift+ and ?123+, without needing to manually switch input modes. From certain keys, users can also access a popup menu of accented characters, numbers, and symbols by holding the key and sliding to select a character.

Improved power management - The Android system takes a more active role in managing apps that are keeping the device awake for too long or that are consuming CPU while running in the background. By managing such apps — closing them if appropriate — the system helps ensure best possible performance and maximum battery life.

The system also gives the user more visibility over the power being consumed by system components and running apps. The Application settings provides an accurate overview of how the battery is being used, with details of the usage and relative power consumed by each component or application.

Control over applications - A shortcut to the Manage Applications control now appears in the Options Menu in the Home screen and Launcher, making it much easier to check and manage application activity. Once the user enters Manage Applications, a new Running tab displays a list of active applications and the storage and memory being used by each. The user can read further details about each application and if necessary stop an application or report feedback to its developer.
Added support for audio/video formats like WebM, VP8, AAC, and AMR-wideband.
and much more, a complete list can be found here.