Apple iTunes has never been my choice of iPhone Manager, and that is why I have always preferred third-party iTunes alternatives like the one I am reviewing today - the IOTransfer for Windows and MacOS.
IOTransfer offers users a powerful 1-click batch-transfer feature which lets users take care of iOS files and data with greater convenience and ease. With IOTransfer, users are able to transfer music, photos, videos, podcasts, voice memos and more from iPhone, iPad or iPod touch to iTunes, computers or other iOS devices in bulk with just 1 simple click. Users can also drag-n-drop files from PC to their devices and download files from device to PC with ease.
To kickstart their new promotion, the company is offering our blog readers worth for users of both Windows and MacOS platform. Simply .
IOTransfer Main Features:
Clutter Free minimalistic Modem User Interface : The first thing you would notice after launching this utility is the simple to use noob-friendly, user-interface without any unnecessary interface elements.
Easy Photos Manger : IOTransfer offers fast and easy iPhone photo transfer and management. Transfer your iPhone photos and images to PC or import from PC with ease.


iPhone Music Manager : Transfer music files between iPhone, iPad, iPod, iTunes and your computer with one simple click, this can't get easier than this. No more messing with complicated iTunes syncs anymore.


iPhone Video Manager : IOTransfer provides an easy and safe two-way video transfer for iPhone and iPad without video quality damage. You can export classic movies, favorite videos and TV shows from your iPhone or iPad to PC. With video importing, you are able to transfer HD movies on your computer to iPhone and iPad. IOTransfer enables you to watch movies anywhere, anytime. With IOTransfer, you are able to sync videos/movies to multiple iPhone/iPad at the same time, by connecting iOS devices to PC with USB cables. Fast syncing speed and batch transfer bring you a better way to share and enjoy iPhone videos. Easier than iTunes, safer than iCloud.
Transfer iPhone Data, Backup iOS Files : Apart from manging images, music and videos this nifty utility also offers management of other important iPhone data like apps, podcasts, ebooks and voice memos between iDevices and PC.
Giveaway :
We have been provided with 5000 EXCLUSIVE Activation Keys for this excellent, easy-to-use iPhone Manager to be given away to our blog readers. Each PRO activation key is valid for 6 months.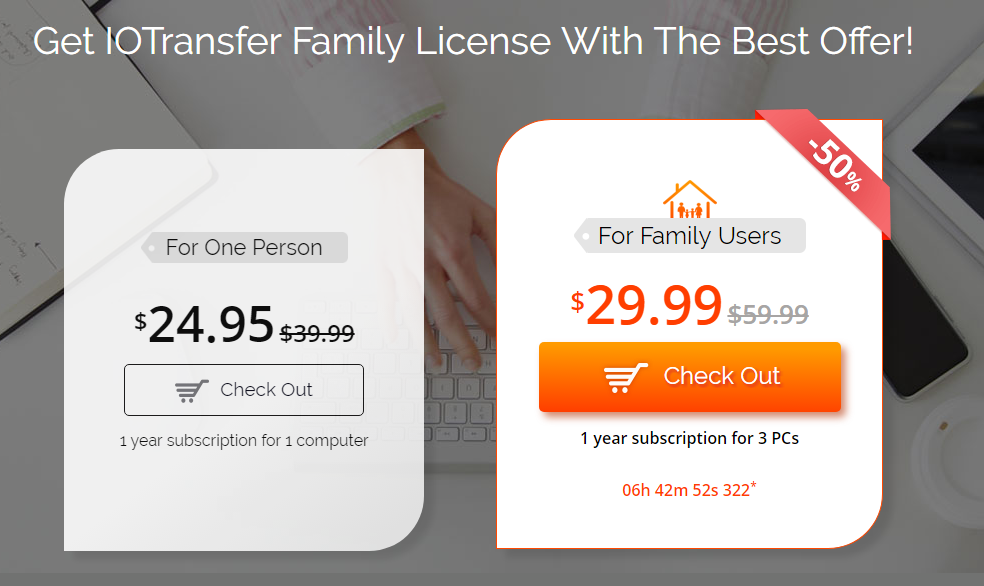 To get your own IOTransfer Activation Key, follow the steps below:
Download IOTransfer from here - http://www.iotransfer.net/ (Windows and MacOS version available)
Facebook Share/Tweet/Share this blog post on any other social-platform.
Fill this form with details of your share and a valid email address to CLAIM your FREE PRO KEY- https://goo.gl/forms/38cyhVvvHmYFMGWY2
Once you get the KEY, use it to ACTIVATE the product (use the "Enter Code" link on bottom-left side) and remove FREE version limitation as shown below.