As expected whizkid GeoHot's iPhone carrier unlock for baseband 05.11.07 dubbed blacksn0w is live now and user can now safely upgrade to the latest iPhone OS 3.1.2 having baseband 05.11.07 via iTunes and still get the carrier-unlock using blacksn0w and jailbreak through Blackra1n RC3 utility.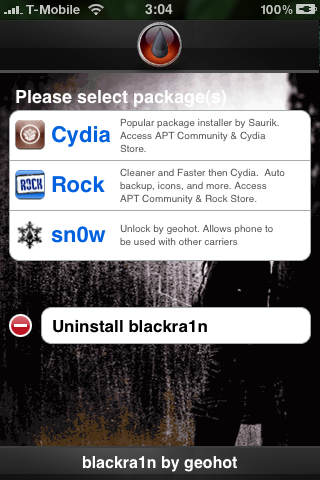 The latest Blackra1n release is available for both Windows and Mac getting the job done in just 15 seconds, it now also supports Hacktivation which means now you don't need the official SIM to activate your iPhone using iTunes.
To get started with Blackra1n and Blacksn0w here are the instructions provided by the master himself :
Go to blackra1n.com to download
For support, blackra1n.support at gmail...but read this first

blacksn0w is also available on Cydia, add blackra1n.com as repo
requires firmware >= 3.1 and baseband 05.11.07

It appears some users are having wifi issues. Try a "Reset Network Settings" Also, this just enables custom MobileConfig files. To fully enable tethering, go here on your iPhone and download a MobileConfig file for your carrier. Watch out for carrier fees for tethering.