We are always busy, but are actually bored deep down, so time and time again we try every possible means to amuse ourselves. Hardly anyone can resist the temptation of fantastic videos, so enjoying movie on "in" communication devices like iPhone iPad is a brilliant way to cheer up.
But what if you are too busy to wait for the annoying format conversion and sync process? What if you want to save hundreds of videos, whether watched or not, on your iOS devices? To make it easier and more accessible to play more videos on iPhone or iPad in consideration of memory size as well, Digiarty Software, Inc. produces Air Playit, an audio video streaming tool for streaming any video in any format to iPhone iPad directly from PC or Mac via Wifi, 3G or 4G.
With Air Playit, you can watch videos as many as possible on your iOS devices while taking no space. Air Playit is composed of 2 parts: the server part is on your PC or Mac getting ready for streaming media to your iPhone or iPad, for example, import video folders from your computer or iTunes Playlist to the "Shared Folders" for streaming;
while the client part should be installed on your iPhone/iPad sending instructions to your server locally or remotely. It can recognize local servers automatically and enable you to specify remote server manually.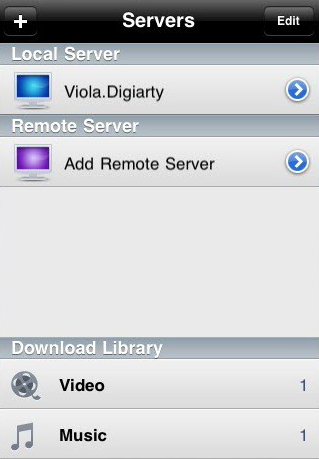 Air Playit has the ability to present all imaginary videos on your iPhone/iPad screen from your PC or Mac. You no longer have to convert the video to suitable format upfront thanks to the built-in 320 video audio codecs. Find the video you want to watch as you added on the server. Click Play. You can watch the video instantly.
1. Support offline converting and air downloading video to iOS devices via WiFi or 3G/4G.
2. Built in HTTP server. Let you access the videos stored on your PC or Mac via any web browser.
3. Support Apple TV-Out so that you can stream video & music to TV via iPhone iPad.
4. Support streaming almost all videos including MKV, M2TS, AVCHD, AVI, WMV, FLV, etc.
5. Support multi-audio tracks video and let you choose any language in the video file.
6. Adjust video/audio quality and resolution for each video individually.
7. Specify permissions to the shared folders. Three permission levels are available: Admin, Kids and Public.
8. Option to remotely power off your computer after finishing watching.
The latest version of Air Playit supports streaming videos to iPhone, iPad and iPod touch. The Android version will be coming later.