The cat is finally out of the bag as Apple announced the iPhone OS 4.0 update, here we have a list of most important new features and updates introduced in the Apple mobile OS platform complete with a video walk-through.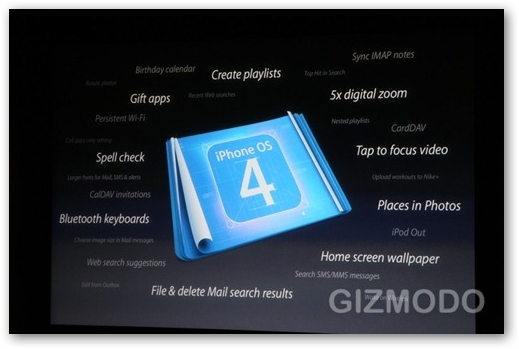 Multitasking - The most wanted feature is finally here, allowing users to simultaneously run multiple applications the functionality requires user to double tap the Home button which brings up a task switcher. Select your app of choice and it pops in foreground.
App Folders - Again a much needed feature to group those applications and game icons category-wise, stores upto 2,000 apps.
iAd advertising - Apple's very own mobile advertising platform.
iBooks - Now, read iBooks on your iPhone's and iPod's.
Fast app switching - A new concept in background app switching, instead of having everything running in background a state is saved so you can quickly and easily switch back to it.
Game center - Centralized gaming service letting users connect to others wanting to play games.
Local Notifications - system for allowing background applications to communicate with user.
Updated mail app - Now supports multiple Exchange accounts and threaded messages.
5x digital zoom - Digital zoom from your camera.
Spell Check
User-defined wallpaper
Playlist creation and nested playlists.
Enterprise features, including remote device management and wireless app distribution.
1,500 new APIs for developers.
Background audio support
In-app SMS support.
Sadly, not all features of the new iPhone OS 4.0 will be supported by every model - only iPhone 3GS and iPod touch 3rd generation will support everything most notably multitasking.
Information and Image Credits To : Gizmodo and Endgadget