ClickTale is an innovative, advanced visitor tracking and web-analytics service, Unlike traditional web analytics, ClickTale provides webmasters with movies of visitor interaction on their webpages aggregating thousands of user browsing-sessions into meaningful reports and heatmaps of user behavior, empowering them to perform in-depth website usability testing and optimization.
The free hosted service allows webmasters to embed a small javascript code like every other web-analytic service and see how exactly visitors browsed their webpages, where they spent most of their time on the page, what they clicked, and what they skipped.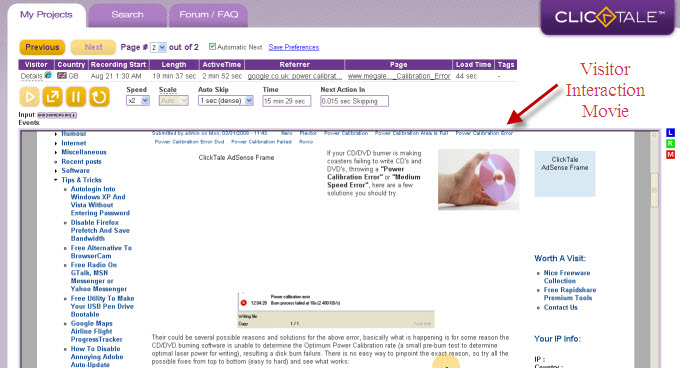 One of the best feature of ClickTale is their HeatMap functionality, letting webmasters see the most interacted sections on their webpages, allowing better optimization of their revenue sources.
Recently, ClickTale announced introduction of another one of its kind analytic solution - "Online Form Analytics", allowing webmasters to optimize and improve conversions of their online forms, letting them discover conversion bottlenecks like fields taking too long to fill and are left blank, and where visitors get stuck and leave.
Form Analytics reveals how visitors interact with online forms and provides recommendations that can increase shopping cart conversion, form completion rates and reduce visitor abandonment.

Form Analytics is based on ClickTale's unique ability to record and play back all visitor actions inside online forms including mouse movements, keystrokes and interactions with controls such as drop-down lists, check boxes, radio buttons, and more.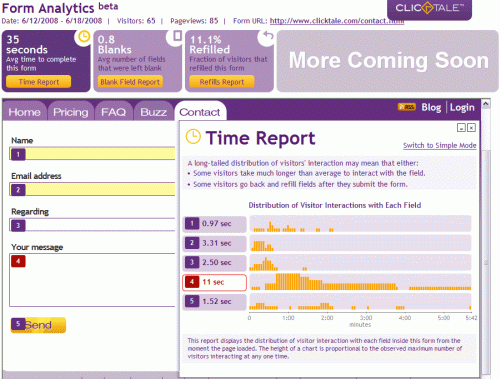 I am highly impressed with the service and suggest ClickTale as a must-try service for every webmaster looking to understand visitor behavior and improve their website usability increasing overall effectiveness, ClickTale basic service is free and allows 100 recording per week with several upgrade options with advanced features and additional recording quota.