Losing or having a phone stolen can be a real pain for several reasons. Not only is it a costly exercise if you are not insured, but it can also be an absolute disaster if you have not backed up and saved all the contacts, messages, call-logs and other important information that you have stored on your phone. No worries of this hassle anymore! Introducing FonePaw Android Data Recovery, a simple and incredibly easy way to backup and even scan-recover lost data from your Android Phone.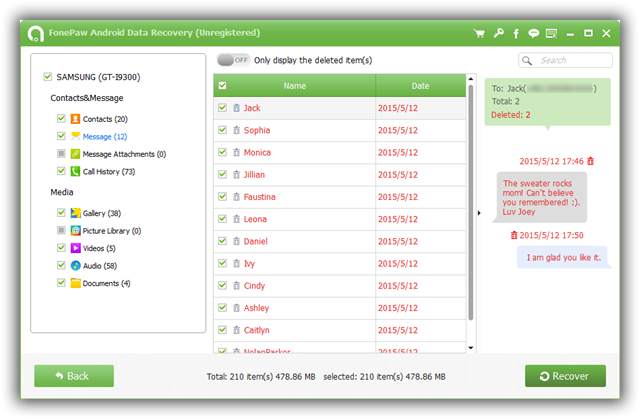 Using the utility you can not only backup your phone data on your PC for safe-keeping but if you find yourself in the unenviable situation of having data loss on your Android Phone be it inadvertently deleted data or data-corruption issue, FonePaw Android Data Recovery can also scan and recover this information from your device. It's as simple as that!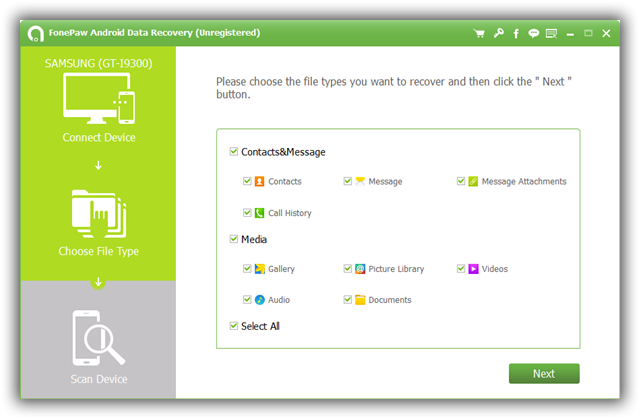 This amazing tool can recover deleted text messages, contacts, and call logs from your phone. Support for previewing and recovering lost photos, videos, music and other media files is scheduled for a future release of the application.
If you thought you had to be a tech genius to use FonePaw, think again! It is really easy and pleasing to use. The interface is user-friendly and has a lovely, clean and uncluttered look to it. When attempting to recover your data, FonePaw Android Data Recover will make things very simple for you by giving you a wizard interface of steps to follow. The instructions are so clear that it is very difficult to go wrong. Recovering your lost data is as simple as it can get using this application and you will be incredibly impressed with the process!
The amazing FonePaw Android Data Recovery solution supports a wide range of devices. It supports almost all major brands of Android phones and tablets like Samsung, HTC, LG, Google, Sony, Motorola, ZTE, Huawei, Asus, Acer etc.. For computers, it is compatible with Windows 8.1/8/7/Vista/XP (32 bit or 64 bit).
A single-user license for FonePaw Android Data Recovery is $49.95. Users can also download the free trial version before purchasing, a 30 days refundable money-back guarantee is also offered.
In today's fast-paced world, you'd be crazy not to ensure that your precious information is not backed up. We understand that time is money, which is why the FonePaw Android Data Recovery is the perfect answer as it takes next to no time to execute.