Well you can now ask to borrow power from a fellow to charge your device, thanks to the new device-to-device charging innovation eCoupled Technology. The Wireless charging technology has now been around for a while, but eCoupled takes it to a whole new level - just place the two devices back to back and you can use power from one device to top-up charge on another. If this is not good enough there are more automation uses like automatic switching-on the TV when the remote is lifted from the Surface. Do see the video posted below.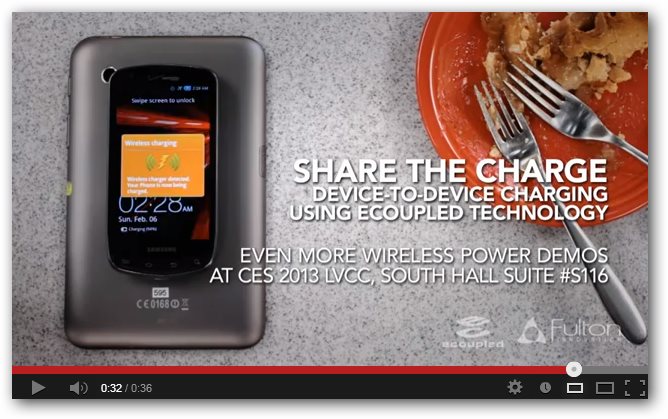 A set top box and TV that automatically turns on or off when the remote is removed or placed on the box, where it charges a super capacitor with no batteries when not in use.
Wireless kitchen appliances that use direct power, rather than charging like mobile phones.
Tablets and laptops with medium power requirements that charge without wires on an eCoupled-enabled conference table.
Home furniture such as side and coffee tables that charge any of the 10+ million Qi devices in market today.
The new Nokia Lumia phone that charges without wires while it's inside a handbag, demonstrating wireless charging over a distance.
Examples of packaging that combines printed electronics with wireless power to attract consumers with flashing lights and sound.
A collection of the latest Qi mobile phones on the market embedded with wireless power including the Google Nexus 4, HTC Droid DNA, and Nokia Lumia 920 and 820.