As the social networking websites expands and increases in popularity, a growing number of people are willing to share their photo creation at the sites. So the big question – how can you determine your photos you share out not being embezzled? Then watermark is the most efficient method to embed a strong protection to your photos. A time-limited giveaway of Watermark Software is distributed by watermark-software.com, associating with MegaLeecher.
Overview:
When you share your photos on the web, you'll never find out what would happen in the following second. Maybe someone will copy and republish your photos for bad using, however, you are able to do nothing. If you intend to sell your photos without watermark via internet, you may receive nothing after transaction.
Watermarking can effectively protect photo copyright. Whenever you share photos with watermark on the web, your photos won't be taken unauthorized. If you sell photos, you can firstly give photos with watermark and send original once you receive your remuneration. Furthermore, you can easily add logo or customized info as watermark.
If you are fed up with wasting a whole day to add watermark to batches of photos, you may need Photo Watermark Software's batch process to help you.

Photo Watermark is an easy-to-use program which provides professional photo protection solutions for your digital photos. It's the best effective way to protect photo copyright from unauthorized using. The newly-designed photo watermark software, protect and retouch your photos all with a few clicks. It enables you to watermark 500 Photos in just 1 minute.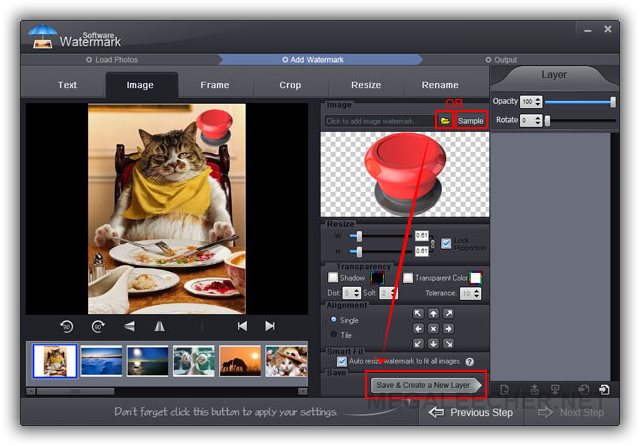 Main Features:
Except watermark photos, it can be used as a batch photo editor. Photo frame, cover, crop resize and rename with ease.
Text Watermark
A common way to protect your photos. You can add any text information to photo with the simple photo watermark software. Adjustable typeface, size, place and color can make your photo become your unique style.
Image Watermark
Allow you add any image to prevent from photo stealing. Hundreds of images have been embedded for your convenience. Customize your image watermark as you will.
Batch Process
Deal with your batches of images at one time. Watermark 500 photos within 1 minute. Photo frame, cover, crop resize and rename with ease.
Smart Fit
Intelligently adjust watermark's size/place to different size/formats photos. Single operation can solve mixed types.
EXIF Editor
Edit your EXIF information. Invisible watermark strengthen your photo security in the invisible way.
Photo Frame/Cover
Various frames/covers have been embedded.
Photo Resize
Two ways to resize your photos: pixel and percentages. Optimize the quality automatically.
Photo Rename
Rename batches of photos automatically and orderly in a short time. It supports various ways to rename photos.
Photo Cropping
Removes unwanted area of photo, enlarge the major area of photo and shrink the size of photo.
Support All Image Formats
Support most main image formats to import/output. Including JPG, GIF, BMP, PNG, TGA, TIF, ICO, PCX, etc.
How to Get Photo Watermark Software Free :
Now, watermark-software.com is offering giveaway for MegaLeecher users. You can get a free copy of Photo Watermark before November 1st. This is a time-limited giveaway, please seize the rare opportunity if you just desire to get this useful tool.
Download Photo Watermark from official page: http://www.watermark-software.com

Install it to your computer, and then launch it.
Register the program with EXCLUSIVE license code for our readers:
More details about Watermark Software please visit product page:
http://www.watermark-software.com/