Winners of our IPHider account giveaway were sent their accounts just a few days ago and we have yet another free VPN account giveaway, this time quality VPN service provider ibVPN is sponsoring USA, UK, Canada, Germany, Netherlands And Ireland based IP anonymity supporting a variety of platforms like Windows 7/Vista/XP/95/98/Me/NT/2000, Mac OS X 10.2 and higher, Linux, iPhone, WM Smartphones any device/software supporting PPTP protocol.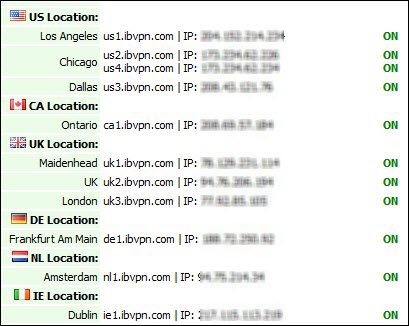 As usual the benefits of using ibVPN anonymity service is that you can surf the web invisibly and securely without being tracked bypassing internet-censorship and country specific content block.
Although, no additional software installation is required ibVPN provides easy to use client configuration utility for Windows users and detailed instructions with images for all major OS and devices.
ibVPN is giving away following 3 months VPN accounts exclusively to our blog readers :
10 accounts with access to US + CA + UK + DE + NL + IE
10 accounts with access to US + CA+ NL
10 accounts with access to UK + IE + NL
To participate and get a chance to win a free vpn account simply Like this post on Facebook spreading the word out, click the "Facebook Like" button to start.